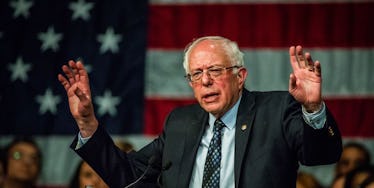 'Bachelorette' Fans Have Never Been More Pissed At Bernie Sanders
REX/Shutterstock
Fans of "The Bachelorette" were definitely feeling the Bern Monday night when Sanders' DNC speech ran over and cut into prime reality TV time.
Devastated viewers hooked on JoJo's search for love laid into Bernie for destroying their evening entertainment.
His speech pushed the air time back for many cities, but it was even worse for people who recorded the episode, as the prolonged speech caused their DVRs to cut off the ending, AKA THE BEST FREAKING PART.
"The Bachelorette" host Chris Harrison warned us of the impending doom with this tweet.
It opened the gates of hell.
UGHHH F YOU BERNIE SANDERS. I can't watch the ending of the Bachelorette on my recording cause you were the first 30 min of it. #PISSED — Sarah Pheasant (@SarahPheasant) July 26, 2016
It earned Bernie a special place on "The Bachelorette" fan hit list.
For some, it was the closure they needed to know Bernie would not have been the right choice for president.
There was just no excuse.
None whatsoever.
It caused confusion. Lots of confusion.
Thanks a bunch, B-dawg.