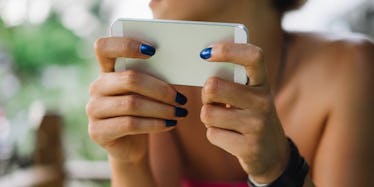 Hero's #SameBae Story About Her Cheating Ex Has Twitter At War
Stocksy / Marija Savic
So, imagine you start a new job at a restaurant and become instant friends with one of your new coworkers. Now imagine your new work BFF is also coincidentally dating your boyfriend and has no idea you're his original bae of three years. And because she's clueless, she pulls up his Instagram page to show you "her boo" of one year. Is your skin crawling yet? Because that is literally exactly what happened to Twitter user @AyanaTheDIVA, whose #SameBae Twitter story has the internet at war.
Are you ready for this? Ayana, a takes-no-BS hero, has blessed us all with a captivating thread dedicated to recounting exactly what went down re: the whole #SameBae situation.
It starts off beautifully with a simple summary and perfectly chosen Beyoncé GIF Ayana tweeted, explaining how a girl was showing her a picture of her man -- but then "she starts pullin up YOUR mans IG page."
Ayana replied to this A+ synopsis with the thread's now-iconic hashtag #SameBae to really mount the suspense.
In the tweets that follow, the scorned waitress describes the fun-loving relationship she once had with her new coworker.
They frequently noticed the same cute guys dining at the restaurant, but nothing could prepare her for the moment New Coworker pulled up her boyfriend's Insta, calling him her "boo."
I'm cringing, but I can't stop reading!
The story gets particularly interesting when Ayana chooses to withhold who her BF is and instead invites New Coworker over for a drink after finding out they live near each other.
There are two juicy details about this move: 1) Ayana and New Coworker coincidentally live in the same neighborhood, six houses apart and 2) their boyfriend lives with Ayana.
New Coworker was unaware that they lived in the same neighborhood, so at least their boyfriend wasn't bringing her into Ayana's home. Phew!
Keeping with her grab-a-drink plan, Ayana invited New Coworker inside.
She saw the TV light, so she knew their boyfriend was home and would reveal himself. It was a genius plan, TBH.
Oh. My. God.
At this point, the thread is sizzling with drama. People are like:
It's so intense, but how will this #SameBae saga end?
Apparently, here's what happened next: New Coworker looked at Ayana next and said, "'Really Ayana? Why didn't you just tell me ?? This is embarrassing I wouldn't have done you like this.'"
"I basically just say 'thanks for the ride girl. No hard feelings, you can keep the glass' she really kept my sh*t and walked out," Ayana explained in a tweet.
Apparently, because she and New Coworker were both new to the job, their boyfriend was unaware they worked at the same place.
Nevertheless, she kicked the cheater out and called a locksmith.
While New Coworker initially called out of work, she and Ayana managed to work things out in the end.
(And yes, she has seen Ayana's epic thread detailing the whole situation.)
However, Ayana's now-ex isn't getting the same apologetic treatment.
Some people on Twitter are taking sides, but Ayana's clear about who was in the wrong.
As for why Ayana chose to confront the drama head-on, in her own damn home, she tweeted that she was just looking out for New Coworker. She wrote,
I'm not mad at her. That's why I wasn't rude. I just had to show her the light . She'll thank me later. We can still be friends she's sweet.
Wow. You've got to hand it to her, she's a legend who certainly deserves to be treated better. In an interview with Complex, Ayana elaborated a bit more about her impromptu master plan. She told the magazine,
Not the first time I've been cheated on. And I always react first, and ask questions later. When you do that you usually don't get the answers you need. I decided to just let her do all the talking. I wanted to get everything I needed then decide how I should proceed. This was honestly the best way for me. Sad I had to bring her in the middle of it though ... I have learned so much about myself and my limits. I chose me this time.
Preach! If you haven't already, head over to Ayana's Twitter to read the thread in full. It's totally worth it.