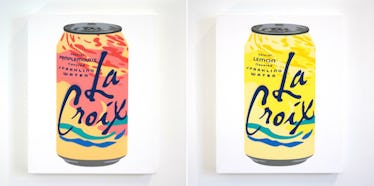 These Paintings Of LaCroix Cans Are Perfect Decor For Every Seltzer Fanatic
Courtesy of fnnch
While Andy Warhol's iconic "Campbell's Soup Cans" pop art is still relevant today, a San Francisco-based street artist known as fnnch is here to steal the soup-light with his "soup cans for Millennials": LaCroix.
Call off the Art.com searches for the perfect décor, because fnnch (who is known for his wildly popular spray paintings around San Francisco) has already created it with every bougie seltzer fiend in mind.
The pieces are part of his new show, "9 Cans of LaCroix," at The SUB --  and I can't stop staring at their beauty.
In an interview with Elite Daily ahead of the already sold-out "9 Cans of LaCroix" opening on Friday, July 14, fnnch describes Andy Warhol's influence on his brilliant idea to make the LaCroix brand pop.
"The paintings pay homage to the Warhol works in a few ways, being both the same size and having roughly the same perspective on the cans," he says.
The artist continues, telling us,
There's a quote from Japanese poet Matsuo Basho that goes, 'Do not seek to follow in the footsteps of the wise. Seek what they sought.' I believe that I'm exploring some of the same cultural and aesthetic territories as Warhol did with his soup cans.
It's true. We Millennials love our seltzer. It's hard not to love something that's flavorful but also calorie-free and delightfully fizzy at the same damn time.
Unlike other seltzer brands, fnnch admits he's noticed something special about LaCroix in particular, calling it a "cultural zeitgeist."
He says, "The billionaires of Silicon Valley do not drink Coke. Movie stars do not drink Coke. But they do all drink LaCroix. And you can too. There's something wonderful about that."
There's also something wonderful about the way fnnch flawlessly captures every single detail of a thirst-inducing LaCroix can, from the brand's memorable logo to the blue and teal swirls behind it.
To achieve such precision, fnnch says he first hand-draws a stencil in Adobe Illustrator, which is common practice among street artists including Banksy and Shepard Fairey.
"I then make the stencils either by printing them out and cutting them with an X-Acto knife or by using prototyping equipment like a laser cutter or vinyl cutter," he explains.
Once the stencil is ready to go, he puts it on a canvas and starts spray painting.
So. Much. Yes.
Considering he turned nine of LaCroix's 13 original flavors into works of art, I had to ask which one's his favorite to drink IRL.
His answer?
Pamplemousse.
Solid choice, if you ask me.
Unfortunately, both opening shows of "9 Cans of LaCroix" at The SUB are already sold out, but if you're in SF, you can make private viewing appointments or wait until the closing event in about a month.
While the original nine cans have already been sold, you can commission fnnch for your favorite flavor on his website.