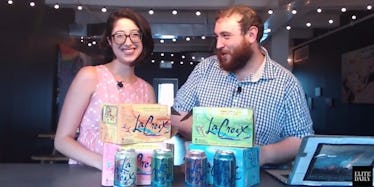 WTF Is Up With Everyone's New LaCroix Obsession?
Elite Daily
OK! Wtf is up with LaCroix all of a sudden? Like, when did this become a thing?
People weren't always drinking LaCroix, right? I can't be the only one who literally never heard of LaCroix until this past June.
Like UGGs, flax seeds, Howard Dean, "True Detectives" and the South Beach Diet, LaCroix seemingly came out of nowhere, swept the world up in a storm and, honestly, will probably swiftly exit before we have a chance to make it a staple in our lives.
YEAH! Sorry for breaking the news, LaCroix faithful. Your beloved drink has the same relevant life expectancy of a guinea pig owned by a kid with divorced parents.
OH! BY THE WAY! I'VE DECIDED I'M PRONOUNCING THIS THING "La Cwah" and not "La Croy." YEAH! I PRONOUNCE STUFF THE WAY I WANNA PRONOUNCE STUFF, Y'IDIOTS!
Seriously, what is with this random obsession over a Wisconsin-based soft drink company?!?!?! Is it really THAT good of a drink??
Until this week, when I tried some for the first time, I wasn't even 100 percent sure what it was. I knew it involved bubbles and I knew it was probably from Canada. But that also describes Shania Twain's personality, so what does that REALLY tell me?
WHAT IS HAPPENING?!?!
Who else is crazy obsessed with La Croix!!??? https://t.co/VVUiH3BTD6 pic.twitter.com/C1qOevjzND — InspiredSTRENGTH (@CarrieHineline) August 11, 2016
A Whole Foods in Brooklyn is selling a LaCroix cake because of-freaking-course a Whole Foods in Brooklyn is selling a LaCroix cake.
Came home to an exciting delivery! Too excited to try this #lacroix #obsessed pic.twitter.com/cNsnzoFqBj — Hillary Gomez (@HGomez13) July 21, 2016
This is a hipster ironic thing. It HAS to be a hipster ironic thing. Like a "OHHH MAN! OLD JEWS LOVE THIS SO WE'RE GOING TO LOVE THIS! PUT ON SOME SUSPENDERS AND BLAST FRANKIE VALLI!" thing.
THIS IS IRONY, YES?
Cult-y. I'm gonna call this whole thing "cult-y."
OK OK OK OK, I hear you, fizz-nuts. I will try your cult water.
NO! NO NO NO NO! WTF IS WRONG WITH YOU PEOPLE?! THIS STUFF TASTES SOOOOO BAD. WHYYYY! IT'S LIKE AN APPLE FARMER TOOK A HOT FART ON MY TONGUE.
These two tweets should sum up all of my feelings on your dumb stupid awful beverage.
I don't work for Zagat, but I 100 percent should because these three reviews of LaCroix flavors are SPOT ON.
In LaCroix's defense, there are supposedly better flavors of its product out there. People keep on raging about this pear flavor, and I saw a bunch of people swearing by something called "pamplemousse."
Now, I don't know what pamplemousse is and don't think it sounds appetizing in the slightest, but I'll try it if someone gives me some. I like to believe people like this crap for some legit reason.
So, LaCroix, if you wanna prove to me you aren't one big sham of a beverage company, please send some of that moose-juice over or legit just invite me to your factory. I WANT to like you, I really do. It's just, right now I don't get it. You're like EDM music to me.