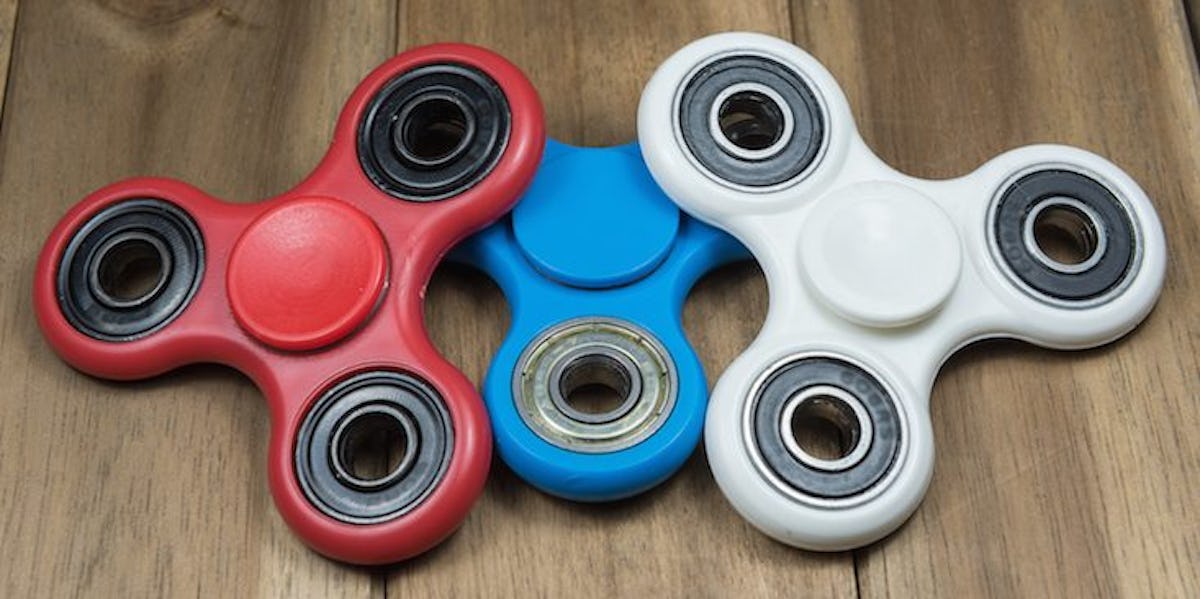 Customer Product Safety Commission Tweets Oddly Poetic Fidget Spinner Warning
Fitria Ramli/Shutterstock
Fidget spinners have been a game-changer for those of us looking for a little stress relief. After a few spins, all of your anxiety melts away and is replaced by soothing feels and the desire to never let go of the brilliant $3 toy.
Some people even like to take their fidget game to the next level with mouthy tricks (see this video for reference).
But — and this is serious, everyone — as of Friday, July 14, the U.S. Consumer Product Safety Commission has officially issued a Twitter warning against putting fidget spinners in your mouth.
The Cliffs Notes version is basically don't do it, period.
It sounds simple enough, but the CPSC didn't exactly cut to the chase in their tweet, which featured a meme-like graphic starring a cool tween in white shades with impressive double-spinning skills.
Instead, the government organization opted to nestle its safety warning to U.S. citizens (and everyone on Twitter) amid a little metaphysical poetry for #FridayFeeling.
The bold text on the righthand side of their branded image reads,
The quest for truth takes us many places. Some find it. Others do not. Once found, live your truth. Just don't put it in your mouth.
I'm so confused.
While finding one's truth is certainly a topic for discussion, I just don't see the correlation between my intrinsic motivation and the fact that I definitely should not put my fidget spinner in my mouth.
Like, who wrote this?
Thankfully, the CPSC clarified their point in the tweet itself. They wrote,
#FidgetSpinners have small parts that can be a choking hazard. Don't put spinners in your mouth #FridayFeeling
Besides the new choking hazard warning, the CPSC also recently announced that it's looking into reports that bluetooth fidget spinners are catching on fire while charging.
Yikes. Please stay safe, fidgeters!
I'm off to write an adoring haiku about the GlamSpin.