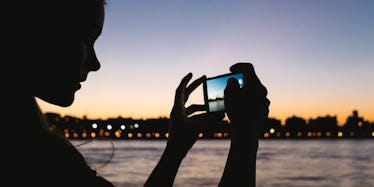 Apple's New IG Account Showcasing iPhone Photography Will Give You So Much Inspo
Anyone with an iPhone 7 knows just how amazing the camera on the device is — especially if you have the iPhone 7 Plus. With the world yearning to learn any new detail about the upcoming iPhone 8 (or iPhone Pro), Apple has created a new Instagram page that showcases iPhone photography. You can find the page on IG using the handle @apple, and the photos are incredible.
The photos and videos featured on this new feed were all taken by regular folks who used the hashtag #ShotoniPhone. Then, their impressive photos were curated by @apple. Using this hashtag seems like an extension of Apple's "Shot on iPhone" ad campaign.
So far, @apple has only posted nine pieces of content. Eight of them use IG's slideshow feature, which was introduced to the app in early 2017. Each post shares four to five photos or videos and gives credit in the caption to those who've snapped them. In a few of them, you can also hear carefully chosen music and soundbites, giving each post a unique feel. Check out the Humans of New York-esque video below.
Whoa, am I the only who got chills after watching that? What a stunning video!
If you want to use your amazing iPhone camera to take awesome selfies that even Kylie Jenner would envy, then you might want to look into Apple's How to Shoot on iPhone 7 website. The site was launched in May and teaches iPhone 7 users how to do everything from taking an amazing selfie to capturing stills while shooting a video.
The site even teaches users how to shoot a sunset silhouette, which can be really helpful if you're looking to make your IG feed a little more artistic.
While we wait for the official iPhone 8 announcement, following @apple on Instagram might help take the edge off just a little bit.