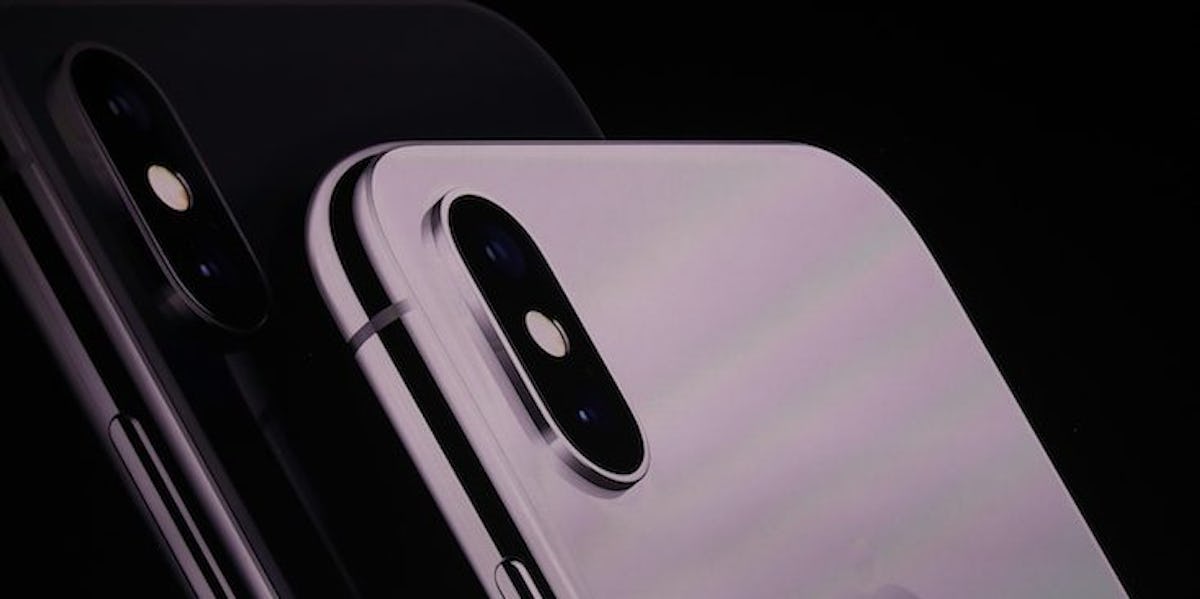 Apple's iPhone X Doesn't Come In Rose Gold And Twitter Is Fuming, Understandably
Justin Sullivan/Getty Images
By now, most of us probably know everything there is to know about the upcoming iPhone X. The long-awaited device will come with an edge-to-edge screen and no home button, which means the futuristic phone will indeed come with facial recognition. Goodbye, finger print! The new device will also feature a battery that is said to last two hours longer than the iPhone 7, so no more running around with your iPhone charger. If you're loving all of these new features, you might be asking yourself the burning question, "Does the iPhone X come in Rose Gold?" Well, I've got answers and you might not like them.
The iPhone X (which is actually pronounced iPhone "ten") will not come in the Rose Gold hue we've all come to love. Cue the mellow dramatic music. The coveted new device will only be available in Space Gray and Silver, and you can almost hear hearts across the world shattering. No all-glass display nor wireless charging capabilities will make Rose Golders forget that the $1,000 iPhone will not be available in their favorite color.
Naturally, those upset about the lack of a millennial pink iPhone have taken to Twitter to express their discontent. It's safe to say people are not too pleased.
"Pretty butt hurt that the iPhone 8, iPhone 8 plus and iPhone X won't come in rose gold."
"Guess who isn't getting a iPhone X because they don't have it in Rose Gold and they crack their phone easily already as it is!"
"Looking at the iPhone 8 Plus/ iPhone X and I'm like WHERE THE HELL IS ROSE GOLD!!!! GIVE ME ROSE GOLD!!!"
"If I get the iPhone x I have to buy a new Apple Watch too since the phone doesn't come in rose gold."
"The only thing I don't like about the #Iphonex is that it's not available in #RoseGold. Whyyyyy?"
"WHY doesn't the iPhone X and iPhone 8 come in ROSE GOLD?! I need it to match my MacBook and my LIFE, okay?"
"I was excited af ready to pre order the iPhone X to realize THEY DONT HAVE IT IN ROSE GOLD"
"Still not over the fact that @Apple stopped making the rose Gold iPhone with the 8 and X what am I suppose to do now!!!"
See? I told you people were upset. I mean, if you have to take out a personal loan in order to pay for a phone, you should at least be able to get it in the color you want. As a Rose Golder myself, I feel personally victimized by Apple and will probably just upgrade to the iPhone 7 when they get really cheap. But I digress.
OK, enough with the bad news, let's get into more positive updates on the iPhone X. The device will come with a 64 GB option which means you'll never need to struggle with storage again. The facial recognition on the iPhone X won't just be for unlocking your device; you can also use it to give life to your Animojis. What are Animojis? Well, I'm glad you asked. Animojis are a new kind of emoji that will be found exclusively on the iPhone X. They will work with facial recognition to give your emojis more personality. See an example below.
I'll give it to Apple, Animojis seem pretty cool and I can already imagine group chats having fun sending each other poop versions of themselves. If you can get over the fact that the iPhone X won't come in Rose Gold, it seems like a cool purchase. You can always just buy a Rose Gold phone case on the 'Zon (Amazon) and give your phone a makeover.