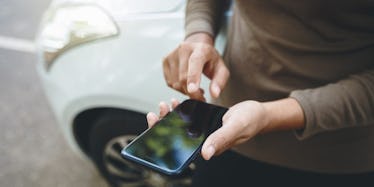 Apple Supposedly Leaked This Detail About iPhone 8 By Accident And It's Awesome
blackzheep/Shutterstock
Guys, we have some pretty huge news. It turns out that Apple might've accidentally released some cool details about their upcoming phone, because a new leak suggests the iPhone 8 might come with infrared facial recognition. The leaked iPhone 8 news came along with a firmware release that Apple sent out for their upcoming HomePod, which is Apple's answer to devices like the Google Home and Amazon Echo.
The first person to notice the sensitive iPhone 8 information was Steven Troughton-Smith, who is a trusted iPhone developer. He tweeted about his discovery, and said,
I can confirm reports that HomePod's firmware reveals the existence of upcoming iPhone's infra-red face unlock in BiometricKit and elsewhere.
NY Mag reports the use of infrared technology — which is code named "Pearl"— might help the iPhone 8's facial technology work in low light settings in order to unlock the phone. But there is still no word on whether Pearl will work alone, or in conjunction with Touch ID.
It goes without saying, the Twitterverse is too excited about this news.
"...This is huge"
"It's really the flashy thing from men in black, so we won't remember this in a few minutes anyway…"
"Wow wow wow... this is huge, bigger than the Eiffel Tower"
Twitter user @_Inside also decoded some interesting information about the iPhone 8.
All of this basically means the iPhone 8 will be a lot sleeker than the phone that came before it.
We already know the iPhone 8 might not come in white, might not have a Touch ID, will probably be released alongside the iPhone 7s and 7s Plus, and will most likely come with an edge-to-edge screen. This is all fairly good news.
We also know the highly-anticipated iPhone 8 might be released later than expected and will probably come with a hefty price tag. This is not very good news.
But all of this news is just speculation, and we won't know what the iPhone 8 looks like -- or what features it will have -- until Apple's official announcement. Stay tuned!