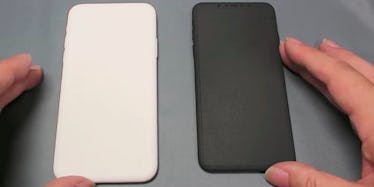 New Video Shows Rumored 3-D Models Of iPhone 8 And We're Getting Way Too Excited
According to the internet, the iPhone 8 (which is rumored to be released this fall) has had countless iterations. A new video, however, is making waves because it shows what many believe to be the two most accurate 3-D versions of the upcoming iPhone 8. See the comparison video below:
The video shows two iPhone 8 prototypes, that, according to well-versed techies, are the two most accurate versions that have made their way around the rumor mill. Japanese Apple news blog Mac Otakara 3-D printed each prototype and measured each using iPhone 8 cases and a screen protector from a third party site.
They found that the white iPhone in the video above was the most accurate of the two because it fits both accessories perfectly, while the black 3-D printed phone is a bit too small.
The white 3-D printed iPhone came from an iPhone 8 mockup that went viral in May after it was tweeted via BGR.
This iPhone 8 prototype counts on all of the rumored features that will supposedly come with the new Apple product including a vertical camera, an edge-to-edge screen, and no home button.
It honestly looks pretty legit and has all of the features many think the iPhone 8 will have, so this might be the real deal. My question is, how the heck do these people even find this information out?
Another iPhone 8 mock up, which was created by mobile reporter Benjamin Geskin, made waves in April for also nailing the rumored design so closely.
The "iPhone 8 Dummy" also has an edge-to-edge screen and lacks a home button. But this version differs with its more rounded back which makes look like a ghost of iPhone's past.
Apple has yet to confirm what the iPhone 8 will actually look like, however, so maybe it's a better idea to stop guessing and start saving money because this new iPhone won't come cheap.