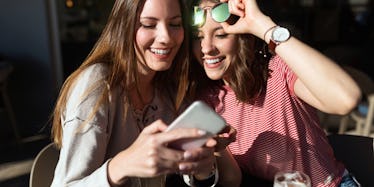 iPhone 8 Color Rumor Includes "Mirror-Like" Options, So Bring On The Selfies
Rumor has it that color options for the iPhone 8 will be perfect for those who appreciate the art of a good selfie.
Leaker Benjamin Geskin used Twitter to reveal that Apple's highly-anticipated product will be available in four colors, some of which include mirror-like options, according to Mashable.
Obviously, this has the potential to eliminate quite a number of steps for those who are never happy with their selfies on the first go-around.
It's important to note Geskin's tweet features a case that looks similar to the potential mirror-like model, but customers can get the general idea. The rumored "color" makes it possible to check one's reflection before posting to Instagram, and that's obviously what's most important here.
Thus far, leaked photos have featured the phone in either black or white, so this possibility will certainly give customers something to look forward to. The iPhone 6s had Rose Gold, and the iPhone 7 had JetBlack, but this rumored mirror model is taking the product to new levels.
Geskin's claim is based off a report from Ming-Chi Kuo of KGI, a notable source, according to Mac9To5. Kuo noted there will be fewer color options in order for Apple to maintain its "boutique branding," but as long as there's a way to check our hair before sharing that #OOTD picture, we're all for it.
Customers have the right to feel anxious about the new option, especially considering the fact that the wireless charging might be delayed, according to Mashable. This might potentially limit the number of selfies for the moment, but fear not, folks — Apple is on it.
There's certainly been a lot of hype about Apple's 10th anniversary product, and we can't wait to see the phone live and in color... or should we say, "live and in mirror?"
Start practicing your selfie game — the mirror might be on its way.