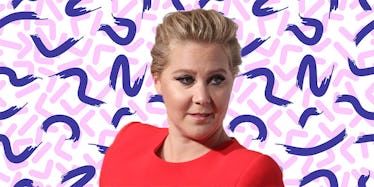 Amy Schumer Reveals The Upsetting Way She Lost Her Virginity
REX/Shutterstock
Amy Schumer's very first sexual experience was painful for her.
Schumer opened up to interviewer Allison Glock about how she lost her virginity. It happened when she was 17, and it was non-consensual. She told Marie Claire magazine,
My first sexual experience was not a good one. I didn't think about it until I started reading my journal again. When it happened, I wrote about it almost like a throwaway. It was like, and then I looked down and realized he was inside of me. He was saying, 'I'm so sorry' and 'I can't believe I did this.'
Schumer also goes on to say she didn't come to terms with the fact the sex wasn't consensual until much later in life.
Unfortunately, this wasn't the only time sex happened in this way for Schumer.
She recalls,
I had another time with a boyfriend where I was saying, 'No, stop,' and it was just completely ignored.
She also takes a stand for survivors of rape, saying,
You know, with the rape survivor, it's not just shaming, it's fury [...] It makes people so mad if you're not a perfect victim.
Schumer's story is a sad one, and it must have taken her so much courage to talk about it. Still, it's always important to have conversations about rape, especially in today's day and age where rape is often silenced.
Lena Dunham is another celebrity who has been vocal about her experiences by writing a memoir, in which she disclosed everything that happened to her.
Dunham wrote,
Speaking out was never about exposing the man who assaulted me. Rather, it was about exposing my shame, letting it dry out in the sun.
Hopefully, continuing to have open conversations about non-consensual sexual experiences will encourage women to talk more about it and create a safe space for others to do so as well.
Citations: Amy Schumer Says Her First Sexual Experience Was Not Consensual (Huffington Post), Amy Schumer Opens Up About Losing Her Virginity Without Consent (NY Mag)