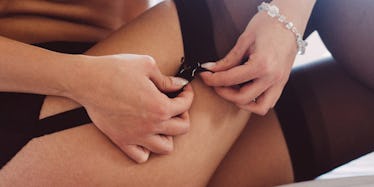 These Are The Insane Amounts Of Scenes Porn Stars Have Filmed In One Day
Katarina Simovic
If you guys were ever wondering how many sex scenes a porn star films in one day, I have the answer for you right here.
A group of porn stars who participated in a YouTube series called "Ask A Porn Star" revealed just how many scenes they've ever filmed in one day. Violet Monroe, one adult entertainer, said she's done as much as three anal scenes in one day. Yup, three. I've never even had anal sex, so I can't imagine what it's like to do it three times a day.
Porn star Annika Albrite has also filmed three in one day, but instead of sticking to one form of sexual intercourse, she switched it up. When asked what the scenes she had to film were, she said, "It was a masturbation scene, a girl-girl scene and then a girl-girl-girl scene that turned into a solo."
Guys reading this, keep it in your pants.
Male porn star James Deen has filmed five in one day. But none of the women were able to beat out Aubrey Snow, who once filmed nine sex scenes in one day. Count 'em, people: nine. 
Allie Haze called the job "exhausting," "taxing" and "body-draining." She went on to explain that because she cums on camera every time, she feels tired by the end of the day. (Hey, it wouldn't be a complete scene if she didn't finish, now would it?)
Porn star Claire Robbins gave insight as to just how much physical work everyone has to put in. She said that in the US, a typical shoot day usually lasts anywhere from four to six hours, but in Europe, you can be asked to film for up to 18 hours a day.
Well, there you have it, folks. Go forth into the world with this knowledge and prosper.
Citations: Porn stars reveal how many sex scenes they can film in one day and it sounds knackering (Cosmopolitan)