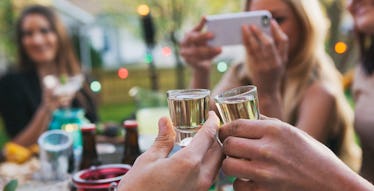 What The 20 Drunkest Cities In America All Have In Common May Surprise You
A new study published by 24/7 Wall St could reveal a lot about American drinking habits -- particularly where people get hammered the most.
After surveying 381 metro areas to find out what percentage of adults admit to binge drinking, researchers found some surprising results.
As it turns out, the Midwest is hands-down the drunkest region in the US. The study found, 17 of the top 20 drunkest cities in America are all located in the Midwest, with 11 located in Wisconsin alone.
According to the report, the top four booziest cities in the US are Appleton, Oshkosh-Neenah, Green Bay and Madison -- all of which are located in Wisconsin.
To give you some perspective about what these results might actually mean, 26.8 percent of the population in Appleton, Wisconsin, regularly binge drink alcohol. That means more than one in four Appletonians frequently drink five or more drinks for men and four or more for women in under two hours.
Soberingly, the national binge drinking rate isn't that much lower, with 18 percent of the population admitting to regularly overdoing it. To get a better picture of why this might be the case, the study's researchers analyzed the concentration of bars located within various city limits -- on factor that may contribute to the prevalence of binge drinking.
LaCross-Onalaska, the sixth drunkest city on the list, has more watering holes per capita than any other US city. For every 10,000 people, there are 6.9 bars, which is a lot considering the average city only has 1.6 per 10,000 residents.
Sarah Van Orman, executive director of University Health Services at the University of Wisconsin-Madison, isn't surprised at all considering her university placed third on Princeton Review's list of Top Party Schools in America. As she explained to Complex,
I don't think any of us that work in health in Wisconsin are surprised by this. There is other data that would support it. Wisconsin has the highest binge drinking rate among all adults in the country. Not just among students, but among our adult population in the state.
So what does this mean for the United States? Obviously, our country's normalization of binge drinking and public intoxication is nothing new. Put that into context with the historic vilification of innocuous substances like cannabis, though, and you have a bigger, more troubling problem on your hands.
To read 24/7 Wall St's full study, go here. To learn more about binge drinking and how to help someone who might have a problem with alcohol abuse, go here.
Citations: Here Are the Drunkest Cities in America, Ranked (Complex)