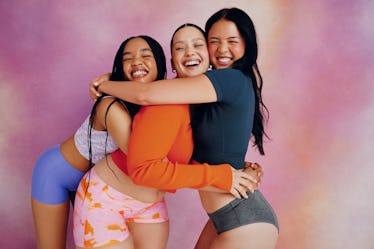 These Best-Selling Period Panties, Swimsuits, & Leggings Are Up To 20% Off
Take period comfort to a new level with these leakproof, buttery-soft pieces.
We may receive a portion of sales if you purchase a product through a link in this article.
If you're a person who gets their period, you're going to want to know about Kt by Knix. It's the "younger sibling" to well-known period-wear brand Knix. Launched in 2017, Kt by Knix is making the whole menstruation thing as comfortable as possible, and has period-havers obsessed with its period kits, period undies, period swimsuits, and even period activewear. Although the products are designed with tweens and teens in mind, anyone can take advantage of these offerings as long as you use the size chart as a guide. Whether you've got cycles of experience under your belt or you just started, Kt by Knix has a period product to help — and plenty of ways to save money in the process.
Right now you can save up to 20% off when stocking up on everything from end-of-summer swimwear, back-to-school undies, and year-round activewear.
Shop The Collection
The Best-Selling Boyshorts, Bikinis, & Briefs
Period undies are what Kt by Knix is super-famous for, and anyone who menstruates can benefit from these absorbent underwear. You can shop by absorbency level (light to super) or by style, with options that include a bikini-style bottom, a boyshort, boxer briefs, and a high-rise brief. The website makes it easy to figure out what sort of coverage you'll get, breaking it down by approximately how many tampons' worth of blood each piece of underwear holds — with some pairs absorbing as much as 8 tampons or 12 pads-worth of blood.
Some styles are constructed from a buttery-soft cotton and modal fabric blend, but there's also the brand's signature leakproof design made with nylon if that feels more secure for you. You'll even find seamless versions that disappear under leggings and shorts.
The One-And-Done Period Kit
Kt by Knix's best-selling period kits are an easy and affordable way to bundle your favorites. You'll find a variety of styles and absorbencies, and an overnight kit featuring their most absorbent products so you can sleep stress-free. The Everyday Leakproof kit is a great place to start: It comes with seven pairs of period underwear so you're set for your whole cycle, plus a reusable pouch. Choose from their bikini, boy short, or high-rise styles; whichever you land on, each pair promises to absorb multiple tampons' worth of blood while preventing leaks, nixing odor, and wicking moisture. They've even got a Vacation-Ready kit that — along with some of its classic period underwear — includes a period swimsuit. (Because, NBD, they make those, too. But more on that below.)
The Leakproof Swimwear For Even Your Heaviest Days
Speaking of swimsuits, you can choose from one-pieces or bikini bottoms (plus the matching tops) and even filter your selections by bum coverage. Just like shopping for their underwear and period kits, each swimsuit clearly lists its absorbency. Whether you like a cheeky bikini or a full-coverage situation, there are plenty of cool colors and prints to choose from, in designs you'd want to wear even if you weren't on your period, and these swimsuits have the added benefit of layers designed to trap blood and keep water out. Every suit features UPF 50+ sun protection and is built to resist both saltwater and chlorine — you'll even find dedicated competition swimsuits designed by a former Canadian Olympic apparel designer that reduce drag, because your cycle shouldn't get in the way of setting your next PB.
The Absorbent Activewear For The Gym & Beyond
For folks who stay on dry land, Knix has even expanded their design horizons to include activewear — so if you're a gym, running, or dance baddie, you can find performance pieces that can handle your workout and offer period protection. Choose from a pair of classic pair of leggings, on-trend biker shorts, a leotard that can double as a bodysuit — even an essential pair of dance tights that are also great to layer under skirts or dresses. All of Kt by Knix's activewear features layered gussets that can absorb multiple pads' worth of blood and prevent leaks, with four-way stretch performance fabric that wicks away sweat.
Save When You Stock Up
In addition to kits and discounts for bundling up, refer a friend and you'll both win big at checkout with 20% off. It might be difficult to decide between all of the cool and effective products, but it's clear that period protection has never been easier.
This article was originally published on