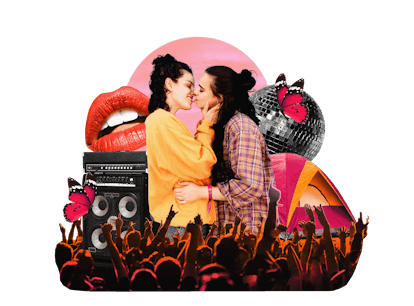 6 Juicy Music Festival Hookup Stories To Inspire Your Next Sexcapade
TFW your neighbor asks you to share a tent. 👀
Lindsay Hattrick/Elite Daily; Stocksy; Shutterstock; Getty Images
Has there ever been a better setting for a spicy hookup than a festival? It's the perfect backdrop for a fling: You're only there for a few days, wearing outfits you spent months planning, surrounded by people who like the same music, and maybe with some liquid courage in your system. You can meet someone hot, ~hang out~ for a few days, and potentially never speak again… or maybe you'll keep in touch, fall in love, and live happily ever after. In the glittery haze of an outdoor stadium, totally removed from real life, anything feels possible.
Even the celebs love a good festival romance. Take this year's Coachella, where fans spotted Shawnmila 2.0, Ariana Madix and a new man, and Kendall Jenner and Bad Bunny cuddling and enjoying the shows together. But the regular festivalgoers are hooking up, too, even if you won't read about those stories in the news.
Here, five people tell Elite Daily about their most memorable festival hookups… some chaotic, some surprising, and some super sexy.
My Friends & I Had Sex At The Same Time — With Different People
Two of my friends and I went to Lollapalooza in 2021, and we met a group of three guys during the Olivia O'Brien set. They were standing a little distance away from us (all in matching banana print outfits), and one of my friends made eye contact and waved us over. We spent the whole weekend together and all ended up having sex in their one-bedroom hotel room. We hooked up separately but in very close quarters — one couple in the bathroom, one on the bed, and one on the couch, which was behind a wall — and we were all listening to the same sex playlist (The Weeknd, Frank Ocean, and other similar vibes). We didn't keep in touch with them afterward, but I randomly ran into one of the guys on an elevated surface at a bar a few months ago. — Ria*, 22
I Locked Eyes With Someone & We Instantly Connected
I was at Common Ground a few years back, and a friend of mine was super drunk and got sick. I was chilling in the back of Marshmello's set, giving her water and nursing her back to health. The cutest guy came over and asked, 'Are you guys OK?' We locked eyes and had an instant connection. We chatted, drank some water, and he invited me back to his hotel room, where he was staying with four of his friends. We went there and started hooking up in the bed and his friends yelled at us. So we moved to the bathroom, had sex all over, took a shower, went back to the bed hours later, and kept going. It was amazing. We eventually fell asleep, woke up, had a lovely continental breakfast of chocolate chip pancakes, and I Ubered home. I never even got his name! — Sophia, 26
I Met A Couple In The Airport… Then Kissed Them At The Festival
I met this nice couple in the Nashville airport the night before Bonnaroo last year. The next day at the festival, I stepped out of a shower in VIP, and this cute woman started complimenting me and my body. Then we realized we met in the airport a day earlier!
They were camped close to my crew, so we ended up going to shows together, and they approached me for a threesome. We flirted all weekend and I made out with both of them, and we shared drugs and stories. We planned to hook up on Sunday, but they ended up passing out because they were so tired from partying with me the night before. On Monday morning, they gave me a ride to the airport, we said our goodbyes, and we were off. I'm still connected with them both, and we're hopefully going to have a threesome one day, or I'll get them to a San Francisco sex party. — Missy, 33
We Made Out During A DJ Set & Kept In Touch For Years
At Ultra 2016, while waiting at the main stage, a girl standing next to me asked if I was Pakistani, to which I said no. (I'm Colombian.) We chatted for a bit and then went back to silence waiting for the DJ to come on. Once he did, I started brushing my hand against hers, downplaying it as accidental to see if there was a vibe. She reciprocated, and before I knew it we were dancing together for the last two hours of the festival. At the end as the fireworks went off, we made out and exchanged numbers. We kept in touch over the years after and became friends with benefits until she returned to Kuwait after graduating. There are still times I think about her and wonder how she's doing. — Joe*, 31
She Came Into My Tent, Then Things Escalated
Before Okeechobee 2017, I joined a group of 30 people on the Radiate app [an app to meet people going to the same festivals], coming from all parts of the country, who agreed to meet up and camp together. One of the members was a big flirt in the group chat, but I didn't think much of it. After we all met in person and danced our hearts out the first night, I returned to my tent and got ready to go to sleep. A few minutes after laying down, I heard my tent zipper open up and saw it was her wanting to come in and cuddle. I said yes, and shortly after she proceeded to give me one of the best blow jobs I've ever had. This was repeated every night of the festival, and at the end we parted ways. — Joe*, 31
My Neighbor Offered To Let Me Sleep In His Tent
This year was my first Coachella ever. I was setting up my tent, and it turns out my neighbor was also there solo. When we talked, I mentioned that I had forgotten to pack a blanket but didn't think it would be that cold at night. After Night One, he texted me and invited me to his tent. I was super wary, but I agreed since it was f*cking freezing. I ended up sleeping with him for the three days of the festival, and we made out and hooked up. It was overall 10/10! Short but sweet. It was nice not having to freeze, and it lived up to the full Coachella experience. — Karol, 21
These interviews have been condensed and edited for clarity.
*Name has been changed.