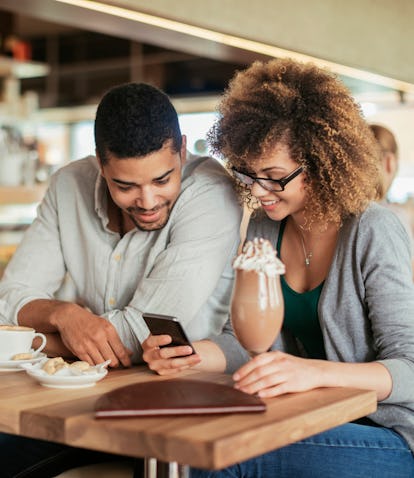 It's Settled: Here's How Long A First Date Should Be
Shutterstock
First dates, although the potentially exciting start to a new relationship or partnership, can be incredibly nerve-racking, stressful, and even dreaded. The first meet-up with a possible partner is often filled with uninteresting get-to-know-you conversations about siblings, school, work life, and favorite colors. This is in addition to the mildly awkward moments and silences that come with meeting someone for the first time. While first dates can come in many different forms like drinks, dinners, or fun bonding activities, one thing that TikTok loves debating is the standard length of a first date — and if the length even matters at all.
Some users on the app describe longer dates like flying out to see someone for a first date or dates that were six hours long. TikToker Miranda (who uses both she and they pronouns) has said that their most recent first date lasted 16 hours. On the flip side, others prefer a shorter hang-out sesh so that awkwardness is limited and you won't have to suffer through it for long if it's not going well.
Dating and relationship coach Kate Durocher took to the app to share her opinion, stating that a first date should be no longer than two hours. Durocher said that while longer dates that span over six hours or multiple days seem fun and romantic, it can lead to early attachment and obsession with someone that you've only just met. Durocher said that the early connection and closeness that comes from meeting up for longer before you have really had time to discover whether your date is a "good person." Plus, it could distract from any potential red flags which is why many prefer to go on a few dates, so they can take their time to get to know someone.
And most people seem to agree. According to a recent poll of 2,000 adults in the U.S, who are actively dating, conducted by One Poll in collaboration with Canada Dry, on average a first date should last a little less than three hours on average.
The poll asked about the ideal first date and half of the participants said grabbing casual drinks was the best first date option, while 43% said a coffee date, and 34% said a market or picnic date. As for the most uncomfortable part of a first date, 31% of the group said the nerves made them the most uneasy. They're often a reason for a shorter date preference.
Whether your first date is 45 minutes or 16 hours, what's most important is that you're comfortable (And don't worry, their poll found an ideal number for that too). According to the participants, four was the average number of dates a person needs to begin to feel comfortable around a potential partner.