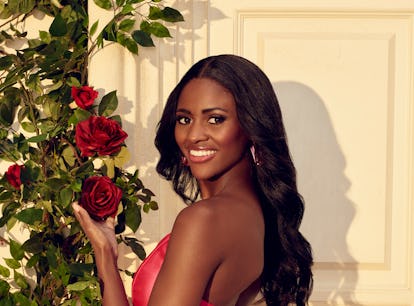 Charity Lawson Shares The Bachelorette Night 1 Moment She Wishes Was Aired
It was an "awkward but cute" conversation.
ABC/Sami Drasin
There's almost always quite a bit of online discourse about the Bachelor franchise lead. Fans inevitably have opinions when a new announcement is made, and in the past few years, the show's leads have been fairly controversial (see: Zach Shallcross and his "boring bachelor" reputation, Rachel Recchia and Gabby Windey being named as joint Bachelorettes).
That streak came to an end when Charity Lawson was chosen as the Season 20 Bachelorette. The 27-year-old from Columbus, Georgia, was an undeniable fan favorite on Shallcross' season — warm, self-assured, and full of spunky Southern charm. As one Twitter user put it, "I'm convinced Charity is a real life Disney princess." Even popular fan accounts that have been critical of the franchise, including @2blackgirls1rose, are coming back to cover Charity's season. "We couldn't leave Charity high and dry!" the account's owners wrote on Instagram. TL;DR: It's impossible not to root for her.
Ahead of the June 26 season premiere, Lawson spoke to Elite Daily about what the first night was really like, her early favorites among her group of guys, and what to expect as her journey plays out onscreen.
Elite Daily: How have you felt about the fan reaction to you as the Bachelorette?
Charity Lawson: It has been insane, to say the least, but in the absolute best way. I know there are always going to be mixed responses about who is the next lead, but people have shown an overwhelming amount of positivity and support for me being the Bachelorette. Even people who have stopped watching the franchise for a moment are now coming back to watch my season. So, I'm super, super happy that the response has been great.
ED: Who stood out to you the most on Night One? You gave the first impression rose to Brayden, but was there anyone else who caught your attention from the start?
CL: I had a lot of clever and super cute limo entrances, and that was the true first impression. I thought Warwick's little one-way ticket to his hometown was so clever. Loved that. He's super cute.
Then there was John Henry, who was a little bit nervous, but I was kind of captivated by his shyness. The little submarine thing was super cute. And then I would have to say Josh. He came out of the limo and poured his heart out, and then our conversation later was really sweet and sincere.
ED: Was there anything that happened the first night that didn't make it into the episode but you wish it had?
CL: My conversation with John Henry didn't make it, but it was funny because he's so shy but full of personality. I think it just takes some time for him to warm up. In our initial conversation, he didn't look at me at all or make eye contact. We were sitting there and he was just staring straight ahead, and I was like, "Hey, look over here. I'm over here." That was really funny, and it's something we laughed about later. A very awkward but cute moment.
ED: That has to be such an overwhelming experience for everybody. I can only imagine.
CL: Yeah. And it was shocking for me because as nervous as I was, I wasn't expecting some of the guys to be so nervous, too. It was cute.
ED: From the teaser of what's to come, it seems like the rest of the guys are not fans of Brayden. Is there anything more you can say about what's going to play out?
CL: In the first episode, you see Sean and Aaron B. being very vocal. Between those two and Brayden, it comes off like this ego match — a lot of people's egos were bruised when they didn't receive the first impression rose. They're ready to put on their fighting pants and get down to business. You'll see that play out, and it gets to the point where things get a bit out of control. I would just say to watch out for those three.
ED: Can you tease anything else about what's to come this season?
CL: We have some really fun dates planned. We stayed within the U.S. for the majority of filming — I had a really fun date in Oceanside, [California], and another in Washington where I did something I said I would never do in my entire life. Then we went to New Orleans, a city that's obviously so full of culture. We also went to Fiji, which was insane and so beautiful. The guys are great; the locations are beautiful. It's going to be really exciting.
ED: How are you feeling post-filming? Are you happy these days?
CL: Now that everything is wrapped, I'm trying to get acclimated back into life. It still feels crazy and chaotic, but in the best way. Overall, I'm very happy with how this season turned out and how it all goes.
This interview has been condensed and edited for clarity.