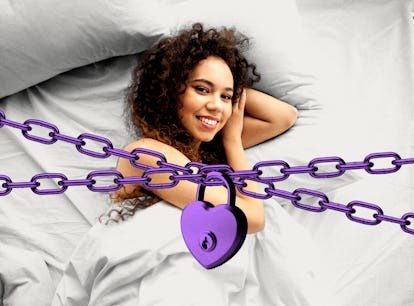 8 Young People Share Why They're Choosing Celibacy
"I'm exploring different kinks, prioritizing masturbation, and learning to love myself."
Elite Daily; Shutterstock; Getty Images
When Hannah, 21, ended her two-year relationship, she tried to fill a void that her ex-partner left. "I was meeting people through friends, at parties, and on social media, having sex with them, and expecting an emotional bond afterward," Hannah, a student from Ontario, Canada, tells Elite Daily. Led by an intense physical attraction, she soon found herself in a situationship with someone whose values didn't align with hers. Over the course of three months, a series of personal incidents helped her realize it wasn't working. "It felt necessary to reevaluate and recognize the toxicity [this person was] bringing to my life as well as my body," she says.
After ending that situationship, Hannah decided to experiment with celibacy. "Not having sex has encouraged me to become more curious about my sexuality," Hannah says. "I explore self-pleasure, I value emotional connections as much as I used to value physical stimulation, and it has taken the stress out of going on dates." Since August 2022, she's broken her celibacy twice for people she felt good about, and she's been otherwise focused on self-exploration.
If you're used to associating celibacy with old-school religious constructs, a quick glance at #CelibacyTok might surprise you. The hashtag #celibacy has nearly 200 million views on TikTok — housing both religiously celibate people and those abstinent for other reasons, ranging from working on self-love to healing from past dating experiences.
Despite Gen Z and millennials being more sex-positive generations, they're also having less sex than their elders. Sex therapist Aliyah Moore, Ph.D., says this could be tied to increased access to different lifestyles and approaches to romance, a higher focus on mental health and personal growth, the highly sexualized nature of dating apps, and delayed marriage and parenthood. "The Internet and social media make it easier for younger generations to choose celibacy as a way to make more informed decisions about their sexual health and well-being," Moore tells Elite Daily. For many young folks, that choice is deeply affirming, and it even can be a helpful way to find a lasting relationship.
Some Say Celibacy Makes Sex Feel More Intentional
Like Hannah, it took a bad experience with a casual partner for Divine, 27, a digital creator from New York and host of the POV: You're My Therapist podcast, to reevaluate her hookup habits. "My date had been drinking and smoking weed and became faded really quickly, and eventually he was self-conscious, self-loathing, and very paranoid," Divine tells Elite Daily. Her concern for his safety that night helped her see men and sex in a different light. "I was very much in my 'I can detach from emotions during sex' and 'men suck' eras, and this experience made me realize how little I cared about the act of sex with another person," Divine says.
She now goes through periods of abstaining from sex to recalibrate. "There is so much more that comes with sex — you are dealing with another living, breathing human being, and if you're not ready for that kind of responsibility, you should take a back seat," Divine says. "For me, that means sex is just not worth it yet."
Others Say It Has Helped Them Raise Their Standards
Celibacy can mean different things to each person, says Moore, and it doesn't always mean remaining abstinent all of the time. "You make your own rules for your celibacy journey, whether you abstain from sex for years or break your celibacy for a promising partner," she says.
In fact, sometimes breaking celibacy can be the key to revealing how valuable it's been. Jordan, 28, a celibacy coach based in Mexico City, originally became celibate "after a hot and intense three-month fling where I had completely lost myself," she tells Elite Daily. So she removed herself from dating entirely, which gradually helped her recognize her own self-worth.
Five months in, Jordan broke her celibacy for a one-night stand. "Instead of beating myself up, I decided to dissect my behavior that night — why was I attracted to that guy? At what point did I go against my boundaries? What could I learn from this experience?" she says. "When I knew what I wanted, what I wouldn't settle for, and how to meet my own needs, I attracted different people and better mates."
For Many, It's Built Their Relationships With Themselves
It's not always one awful fling that sends people to celibacy. It can be a gradual realization that dating and casual sex just aren't fulfilling anymore. Los Angeles-based creator and social media manager Sheen, 30, became celibate after a three-year relationship followed by an FWB situation. "It was fun for a while, but when it ended, I felt a bit hollow inside," Sheen says. She made the decision to be celibate — she deleted her dating apps, cut ties with men, and took a break from dating altogether.
Choosing celibacy has allowed Sheen to strengthen her relationship with herself. Now, she prioritizes emotional connection over physical chemistry, focusing her attention on her own needs rather than other people's.
Similar to Sheen, Silvia, 29, a Romania-based life coach and content creator, became celibate after her long-term relationship ended. She tried dating again, and in her words, it was awful. Multiple failed dates drove her to three years of intentional celibacy, which included daily rituals like self-love affirmations and journaling. "I eventually got to the point where I didn't even get crushes because the more I was focusing on myself, the more I started to smell the BS coming from others," Silvia says. "Suddenly, my potential dates were competing with the happiness I was feeling." She credits celibacy with helping her find her soulmate, whom she married last month.
Celibacy Can Help You Focus On Self-Pleasure
Both Silvia and Carry, 30, a women's life coach in Berlin, used celibacy to create more time for self-expression, and for Carry, a major part of that exploration was upgrading her sex life. "At the end of my five-year relationship, I realized I'd never been sexually fulfilled — I wanted to make this a priority with myself first, and then with a potential partner," Carry says.
So she decided to stop having sex with other people. "Now, I'm exploring different kinks, prioritizing masturbation and orgasms, and learning to love myself, proving that celibacy was all I needed to spice things up," she says.
It Can Also Allow Time To Heal From Past Heartbreak
For Karine, 29, who works in marketing in Canada, celibacy allowed her to heal from a long-term ex. Post-breakup, she was jumping from one relationship to the next, constantly comparing new partners to the person she'd dated before. Karine decided to take a break from dating and sex for as long as it would take to fully move on.
Three years later, she wasn't sure she'd find someone again. "I was building a life by myself that I loved and couldn't see how someone could live up to my newly enforced standards," Karine tells Elite Daily. Last September, Karine found the strength to officially close the chapter with her ex. "Four days later, I met the person who happily made me break my celibacy," Karine says.
Sydney, 24, also hopes celibacy will help her find love in New York City. She's been using it to weed out guys she isn't interested in dating. "In my experience, many guys will just say all the right things in the hopes of sleeping with you — sharing that I'm celibate on the first date and then evaluating their reaction helps give insight into where that relationship could go," Sydney tells Elite Daily. "Once, I was on a first date with a guy, and when I told him, he acted offended as if I'd been leading him on just by accepting his dinner invite." She now knows the right person will respect her decision and think more highly of her for it.
It's Given Many A Sense Of Control In Their Dating Lives
Moore says the power of celibacy is undeniable. "Absence makes the heart grow fonder, and when it comes to celibacy, that couldn't be more true," Moore says. "Not only can taking a break from sex allow [you] to focus on personal growth and self-improvement without the distraction of dating drama, but it can also give you a chance to reassess what you're really looking for in a partner."
For many young women, celibacy has given them that agency. "Celibacy taught me patience, compassion, and self-love," Karine says. "I truly believe it has prepared me to be with this wonderful new person."