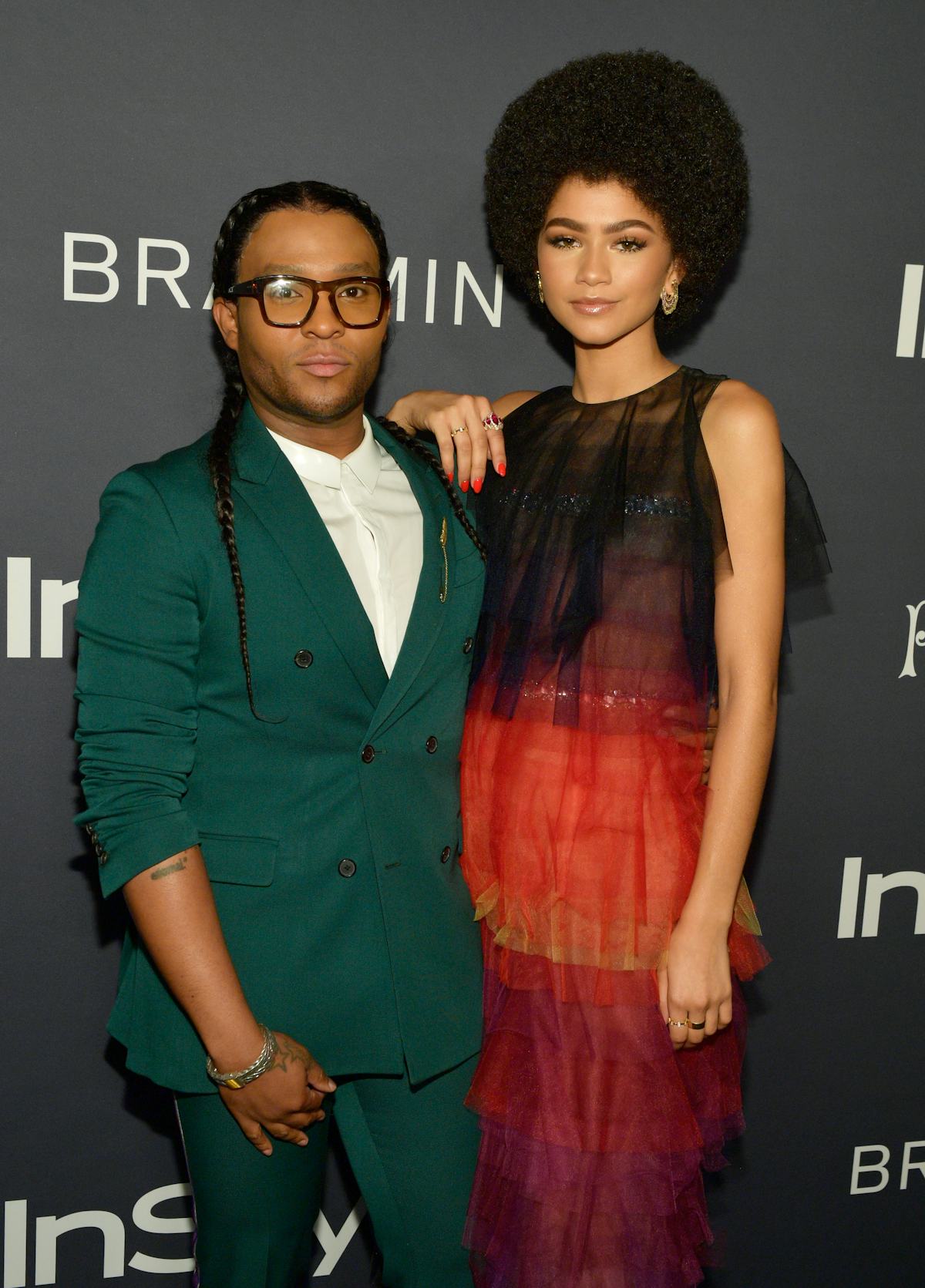 Zendaya's Stylist Put Her In The Exact Same Dresses As Other Stars On Purpose & It's Actually Genius
Matt Winkelmeyer/Getty Images Entertainment/Getty Images
When it comes to game-changers within the fashion industry, there's no one quite as deserving of a call-out as Zendaya's Stylist, Law Roach. Not only has he curated the sartorial identities of some of the best-dressed stars out there (Celine Dion, Anne Hathaway, Tiffany Haddish, and Ariana Grande included), but he's done it all on his own and via unique, if not ingenious ways.
Eight years ago, when Zendaya was 14 years old, she was still a relatively under-the-radar actress. Her biggest gig was playing Rocky Blue on Disney Channel's Shake It Up, meaning she didn't have the recognition that big network or film actors did. It was by chance the Law Roach happened to meet her at this time in her career and would subsequently go on to help her become one of the consistently best dressed actresses in the game.
Roach started off his career in fashion by opening a vintage store, Deliciously Vintage, in his hometown of Chicago after years of collecting and lending out thrifted women's clothing. He eventually began working with personal clients and when one moved to Los Angeles, they flew him out for a personal shopping session. Serendipity stepped in. "The day I arrived, a beautiful girl came by with her dad, and it was Zendaya," Roach explains in an interview with The Guardian. He went on to dress her for the premiere of Justin Bieber: Never Say Never, styling her in "a puke-green, patent-leather Alexander Wang skirt with a silver Alice and Olivia blazer," as he puts it. That marked the beginning of their creative partnership.
If you followed Zendaya's fashion trajectory, you might have noticed that at the start of her meteoric rise, she often wore the same outfits as other, often bigger stars. This wasn't a mistake on Roach's part, but rather an incredibly thrifty tactic. "Nobody wanted to dress her when she wasn't known, so I would put her in things that other people had already worn," explained Roach. That's how fashion works: designers will only lend their clothes out to certain celebrities and influencers who they feel have the correct image and right amount of status to wear their pieces. Annoying? Lofty? Cringy? Yes, all of the above. But it didn't stop Roach from figuring out how to work the system and ultimately get Zendaya into celebrity style columns and onto "Best Dressed" lists. Soon, "people started to know her name".
Now, Roach is one of the most in-demand stylists in the business. He's the brains behind Celine Dion's total fashion transformation that began in 2016 and has since earned her the title of Best Dressed Woman on Earth, Period, and continues to style Zendaya in ways that push the red carpet norm in incredibly important ways. Remember when Zendaya paired a dreadlocks hairstyle with a Vivienne Westwood gown for the 2015 Oscars, or sported a mullet and tuxedo as an homage to the late David Bowie at the 2016 Grammys? Roach was behind both looks.
Headline-making looks aside, Roach's sheer presence within the fashion industry is in itself game-changing. A fact that, once you understand its context, is shameful. Of his fellow honorees on the Hollywood Reporter's list of "The 25 Most Powerful Stylists in Hollywood 2018," only four are white. That means five honorees out of 25, or one-fifth, are black. It speaks to the blindingly obvious fact that fashion is still not diverse, that it still has long, long way to go. As The Guardian points out, "among the Council of Fashion Designers of America, only 15 of its 500 members are black. When Tyler Mitchell shot Beyoncé for the September 2018 cover of US Vogue, it was a first for a black photographer in the magazine's 126-year history."
Roach recognizes the power the platform he has earned holds and stresses the importance of inclusion not just on the red carpet or on catwalks, but within every fact of the industry. "If you're fighting for inclusion, it has to trickle all the way down to the hair and makeup, to the cameramen and the sound engineers," he tells The Guardian. "People say, 'Isn't it getting better, though?' To which I reply, 'Oh yeah, it's getting better for me. But what about everybody else who looks like me? I can't be in this industry and be the only one. I can't do that.'"
#1 Most Influential Stylist might be more appropriate, don't you think?