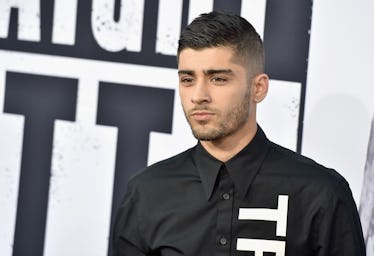 Zayn's New Video Stars A Gigi Hadid Lookalike & Fans Can't Handle It
Kevin Winter/Getty Images Entertainment/Getty Images
Fans were devastated when Zayn Mailk and Gigi Hadid broke off their relationship this past March. The couple, who shared two years of romantic bliss together, split up suddenly, leaving fans sad, confused, and a bit disappointed. In recent weeks, Malik's been busy with preparations for an all-new musical era, which was kicked off on Thursday, April 12 with a very interesting video. Malik's new video "Let Me" has a Gigi Hadid lookalike and fans can't quite handle it.
The video comes just a week after Malik deleted all photos of Hadid from his social media accounts. But that, it turns out, was merely an act of renewal and rebirth, so to speak. And now fans have the music and the video they've been waiting for.
In the video, Malik can be seen getting mixed up with some shady characters who meet in the shadows and seem to objectify the women around them. One woman, the Hadid lookalike, catches Malik's eye and he becomes dead-set on snagging her for himself. He's so determined to make her his that he even throws down a few punches in her honor.
Here's the video, in case you want to check it out for yourself:
From her hair to her model-like figure, the woman in the video is nearly Hadid's doppelganger and it's making fans really curious about what Malik's intent was for the video. Did Malik make the video specifically for Hadid? Was the song written for her? Will they ever get back together?
So many questions!
The lookalike model, whose name is Sofia Jamora, plays a damsel in distress of sorts. After Mailk fights his way to get to her, she's seen being held at gunpoint. When all hope seems lost and Malik feels he's out of options, the woman frees herself from harm's way, showing Zayn that she's just as willing to fight as he is. The two then escape to their own private paradise.
Here's what fans are saying about the Gigi Hadid lookalike in the video:
Now, obviously diehard Malik-Hadid fans are wanting to see the two celebs back together and this new video may seem to confirm that there's still feelings on Malik's part. It isn't surprising when you consider how long they were together and devoted they seemed to making the relationship work.
Here's what Malik had to say about Hadid at the time of the breakup in March 2018:
Gigi and I had an incredibly meaningful, loving and fun relationship, and I have a huge amount of respect and adoration for Gigi as a woman and a friend," Malik said. "She has such an incredible soul. I'm grateful to all of our fans for respecting this difficult decision and our privacy at the time, we wish this news could have come from us first. We love you all. xZ
Even Hadid's mom, Yolanda Hadid, loved the pair together. In a February 2018 interview with The Daily Mail, the Hadid matriarch gushed about the young couple and talked about whether they'd get engaged.
"We'll see, I truly believe they're all on their own journey. It's not in my hands anymore so I'm just sitting back and letting it all unfold," she said.
Yolanda even went so far as to call Malik her son and really gave the world a glimpse of who he is as a person:
He's a beautiful human being from Bradford, England. He's from the same background that I'm from, him and I get along great and he's like a son to me. It's all good. He has no family here and he's so far away so I understand that life because I lived that life. I think that I'm just a momma to him.
If that's anything to go by, then it seems like Malik will always have a place in the Hadid family.
Whatever went on behind the scenes of Malik's and Hadid's relationship, it's clear they cared deeply for one another. And if "Let Me" is an ode to the love Malik had (or still has) for Gigi, then that just makes it all the more beautiful.