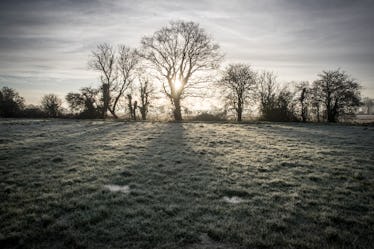 Your Winter Solstice Horoscope Will Have You Feeling Lazy, But Grounded
Matt Cardy/Getty Images News/Getty Images
The Winter Solstice of 2017 is here, marking the last quarter of the astrological calendar and the finale of our calendar year, and if you ask me, 2018 can't come soon enough. We'll get to your winter solstice horoscope 2017 in a minute, but first I have to share the lows I've never experienced this year unlike anything ever experienced before. I ordered Blue Apron to better myself, and let everything rot in my fridge for three weeks before canceling my dumb account. I then got even lazier and stopped using Seamless to use Uber Eats, the faster and far more expensive version of Seamless. My Uber rating dropped another .3 points and no driver will tell me why they hate me so much; I have asked.
All in all, it was one big failure of a year, and I can't wait to celebrate a new one when the lies I tell myself will feel real and no one will have the heart to tell me otherwise. First, we have to undergo the Winter Solstice, when Saturn moves into Capricorn, giving us all a clear-as-day view of exactly where we fall short and what the hell we have to do about it; and sadly, none of us are going to like the answer very much.
What Is The Winter Solstice?
First of all, the Winter Solstice is the darkest day of the year, and I don't mean that metaphorically. It's quite literally the shortest day, when nightfall comes sooner than it will any other day of the year and we are thrown into the twilight of the cold cold lonely winter. As night falls on the Winter Solstice, Dec. 21, 2017 at a crisp 4:28 P.M. the doors to cuffing season shall close on us all, and if you've missed your chance, you'd better sign up to foster a dog or get a weighted heating blanket.
You're going to want to stay inside, fire up that Netflix account and make yourself comfortable. In fact, why even show up for work? Call out. There's no reason to get up if the sun's just going to f*ck right off like four hours after you get to work.
Sun Enters Capricorn
On the same day as the Winter Solstice, we have the first day of Capricorn Season, when our lives take on a more somber theme than they've had over the last month while the sun has been in the party animal sign of Sagittarius. With the sun in Capricorn, your focus turns to personal responsibilities, to improving your life, to being more efficient in your work, to authority and tradition. It's pretty fitting then, that Capricorn season starts with the Christmas holiday, a holiday most of us are guilted into spending with family through various forms of emotional manipulation by our parents or siblings. Am I Scrooge? Possibly. I literally hate Christmas.
Saturn Conjuncts The Sun
Not only do we have the beginning of Capricorn season, we have Saturn, the disciplinarian planet, moving into Capricorn as well, conjunct the sun. What does that mean? It means that on this day, (projected by some astrologers as the worst day of the year) we're going to have our focus on everything that's wrong with our lives and what we have to do, what we'll have to sacrifice, in order to fix it. Saturn's lessons almost always involve sacrificing what is comfortable and chaotic for what is difficult and stable. The area of life Saturn will affect depends on it's position in your natal chart, but you won't need to look up your chart to know what that is. Saturn makes it's presence known, and the worst part is? You'll be dealing with this planet for the next two and a half years.
If you make use of the lessons Saturn has to teach, you'll be rewarded handsomely in your life, and this day is a microcosm of what you'll be learning over the next two years. Your energy level might be low, but you can't use that as an excuse to just lay around. Saturn will be pushing you to do your best, so get out there and be somebody.