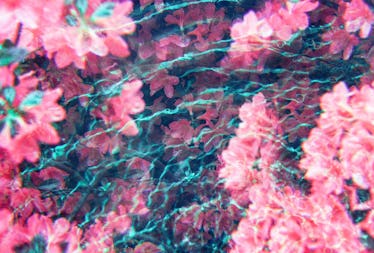 Your Total Lunar Eclipse Horoscope Is Here & It's Time To Release What No Longer Serves You
Another day, another eclipse. You know how it goes, right? Although, this isn't just a regular eclipse, considering it's also the longest eclipse of the century. Isn't that crazy? Not to worry, I've got your total lunar eclipse 2018 horoscope right here, and let's just say, new beginnings are in the horizon.
The total lunar eclipse will take place on Friday, July 27, at exactly 4:20 p.m. ET. This eclipse is part of the Leo-Aquarius axis, as it will conclude in the beginning of next year. (FYI: Leo and Aquarius are polar opposites, and eclipse families come in pairs that are found exactly opposite each other.) This lunation will be in 4 degrees Aquarius, and the solar eclipse on Aug. 11 will be in 18 degrees Leo.
This particular eclipse will be sitting close to the South Node, (karma we bring from previous lifetimes) and Mars Retrograde. Now, when a planet is retrograde, the energy is internalized, so there could be a bit of restlessness in the air. It will also be making a square to electric Uranus, planet of chaos and unexpected change. This, of course, only enhances are need to break free, and trust me when I say, we will be doing just that.
No need to overthink it, stargazers! The cosmos want us to let it all go. Here's a closer look at how the total lunar eclipse will affect your zodiac sign:
Aries: Your Group Of Friends
The lunar eclipse will light up the area of your chart related to your extended community, friendship circles, and teamwork. So, whether you're squashing beef with a close friend or a work colleague, this energy is bringing everything full circle for you, Aries. This area of your chart is also related to social media, so don't be surprised if you move forward with blocking that Instagram stalker. Leave it all in the past.
Taurus: Your Professional Life
You could be feeling anxious with your current work situation, but this, too, shall pass, Taurus. The lunar eclipse will illuminate your career zone, but this could also come with a bit of frustration. Are you ready to call it quits? You need to do what's best for you, and at this point, it's best to let this eclipse take the wheel.
Gemini: Your Personal Philosophy
Yes, lunar eclipses represent endings, but there are new beginnings for you in the horizon, Gemini. This lunation will light up your ninth house of travel and expansion, bringing you luck and opportunity. What's missing in your life? What are you going to do to get it? You're constantly evolving, and you've adopted a new mindset in the process.
Cancer: Your Thoughts On Transformation
Bow chicka wow wow, the lunar eclipse will illuminate your sexy eighth house, bringing you a soulful new beginning. Are you single? This energy could spark a seductive new romance that could potentially bloom into a karmic relationship. Are you ready to put your guard down?
Leo: Your Relationships
One word: karma. The lunar eclipse will light up the area of your chart related to partnerships and relationships. Are you ready for that much-needed closure? You and I both know it has nothing to do with your current situation. On the contrary, exes come and go, but we still feel that internal resentment. Let it go, Leo.
Virgo: Your Daily Routine
Your health is top of mind these days, Virgo. The lunar eclipse will illuminate the area of your chart related to your overall wellness and day-to-day routine. There's something brewing within you, and it's bound to affect your current routine. Time to live your best life!
Libra: Your Self-Expression
Have you been speaking from the heart, Libra? The lunar eclipse will touch your authentic fifth house of love, lust, and creative expression. Time to let your freak flag fly, and I mean that in the best way possible. You deserve your happiness, too.
Scorpio: Your Personal Security
The lunar eclipse will illuminate your domestic fourth house of emotional foundation, home, and family. Are you planning on moving? This energy could spark an unexpected move, or an important resolution related to a significant female in your family.
Sagittarius: Your Mind And Perspective
This eclipse will bring focus to your third house of siblings and immediate community. Are you in the midst of making amends with a close relative or coworker? Beware of restlessness and hidden frustrations. Try to communicate your message without being hostile.
Capricorn: Your Resources
Lunar eclipses are notorious for bringing endings, and this particular eclipse will illuminate the part of your chart related to your income, resources, and self worth. Are you ready to take that leap of faith? You and I both know you deserve better.
Aquarius: Your Personality
There's a new you in the horizon, Aquarius. However, while Mars is on your side, you must also be mindful of this retrograde period, as it could spark some internal restlessness and frustrations. This is your moment to rid yourself of what no longer serves you.
Pisces: Your Spirituality
This eclipse will light up your 12th house of closure, healing, and spirituality. Interestingly enough, the twelfth house is your home in the zodiac wheel, and a reminder that you are not responsible for other people's pain. You are selfless and compassionate AF, but you need to also start looking out for yourself in the process. This is the end of a karmic phase, and the beginning of a new spiritual journey.