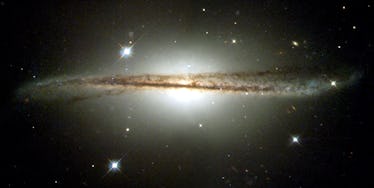 Your Weekly Horoscope Is Here In Time For The New Moon
NASA/Getty Images News/Getty Images
We're already halfway through November, and depending on where you live, you might be gearing up for the dropping temperatures. Even if the geography of your home hasn't gotten colder just yet, there's still something about this time of year that feels cozy with the Thanksgiving holiday quickly approaching. Your Nov. 13, 2017, horoscope is here to support you as you start to draw into yourself — to connect with your inner introvert, and to connect to the messages you are getting from your own inner wisdom.
This week began with the transit of Mars in Libra squaring off to Pluto in Capricorn on Sunday, Nov. 12. This is a difficult transit, as it brings up our desires to manifest more in some areas of our lives, and the feelings of unworthiness we have to move through in order to do that. The week ends with a new moon on Saturday in Scorpio, giving us the whole week to become more aware of what we need to heal in order to create a better life for ourselves.
Pay attention to your dreams, as you will get messages through your subconscious about what your individual challenges might be. It's important to remember that the challenges you're up to after this transit take time, and will require you to be patient.
Aries
This week is major for your solar eighth house of shared resources, making it a perfect time to embrace a relationship or a joint business venture. While an endeavor this moving can threaten the status quo, it's most important to remember that anything worth doing contains risks, and refusing to get hurt is for f*cking babies. You are not a baby.
Taurus
Your seventh house is lit up this week, and if you are in a committed relationship, this week might be the week you get engaged or begin talking about it — so get excited. If you're an artist, you could meet someone who becomes the perfect collaborator or agent. The seventh house is the house of contracts, so if you have one that you've been holding out on signing, this is the week to do it, provided that everything looks good to you.
Gemini
The sun, new moon, Jupiter, and Venus are all in your sixth house of work and health and service. The sixth house has to do with daily responsibilities, pets, and your day job. Having all of these planets in this area of your chart makes this a week where you gain self-esteem from being of service to others, along with impressing others with your ability to show up and get the job done.
Cancer
The four planets I mentioned above — sun, Venus, new moon, and Jupiter — are in your fifth house of love, fun, romance, and theatricality. This week will allow you to step outside of your comfort zone and get your tits blown off by how much fun you have. You could meet new people when you're out and about, too, and Venus' influence suggests these people could change your creative perspective (and possibly your income) in some way.
Leo
Your domestic life will benefit this week. If you've recently moved into a new place and you've been slowly decorating your home, you'll finally be able to splurge on the items you've had your eyes on. All of your patience will pay off.
If you've been considering a new coat of paint on the walls, but it feels like too big of a project, keep an eye out, because you'll have luck on your side. You could find the perfect shade for your bedroom that you really cannot pass up.
Virgo
This week will be bustling with daily activities, communications, emails, and could even include a lot of short-distance travel. You have Jupiter, Venus, the sun, and the new moon all in your third house of communication and technology.
Keep records of everything this week, clean up your calendar, and write down all of your ideas. They're likely to come so fast that you'll barely be able to hold onto them, and they're likely to be very good as well.
Libra
This week is a good one for raking in the cash... and spending it. You will most likely have the opportunity to take on an extra project or two at work, allowing you to increase your income.
You could also make some extra cash (and free up space in your mind and your home) by selling possessions you no longer need. Pluto squaring Mars is likely to bring a theme of letting go of clutter in your life this week, both metaphorically and literally.
Scorpio
This week makes you the universal favorite, with so many planets in your first house. Venus and Jupiter are in perfect aspect Monday, Nov. 13, to manifest both love and financial prosperity.
That being said, with Pluto squaring Mars, you'll need to pay close attention to the ways in which you subconsciously get in your own way. One way to become more aware of this is to write your fears down on a list, and to inspect the beliefs that feed those fears. You can burn that list afterwards, but awareness is the first way to let these things go.
Sagittarius
The sun, new moon, Venus, and Jupiter are all in your twelfth house this week, making you feel more intuitive, sensitive, and craving some solitude. Even if it feels like the world around you is out and about, partying hard and enjoying life, you'll be feeling the desire to hide out and chill. Follow your intuition, and enjoy your alone time. The twelfth house will bring you more creative inspiration if you work with it than you could get at any other time.
Capricorn
This week brings you the opportunity to meet new people through group activities, and these people will help to make your dreams a reality. The eleventh house — where Venus, Jupiter, the sun, and new moon will be clustered in your chart — is the house of friends, group activities, hopes, and wishes.
With Pluto and Mars squaring off in Libra, this might mean that if you have an important project coming up, now is the time to focus on getting by with help from your friends. If you have issues asking for a hand, do it anyway. Deal with the discomfort later.
Aquarius
This week, your career will be out of control in the best way possible. Over the weekend, you may have been inspired in a new way to take huge steps toward what you want, and this week, you'll have the chance to do it. Take the steps you need to take to make a name for yourself, because your efforts are likely to pay off easily with the sun, Jupiter, Venus, and the new moon all in your tenth house of fame and honors.
Pisces
This week offers you the chance to scratch the itch you've been feeling for adventure. The quartet of planets that include the sun, Jupiter, Venus, and the new moon are all in your ninth house. The ninth house rules personal growth, and having Jupiter — the planet of expansion — increases your craving for new people, places, and activities.
On Nov. 16, Venus and Neptune will be in sync, creating an opportunity for a romantic night with either your partner or your own creative instincts.