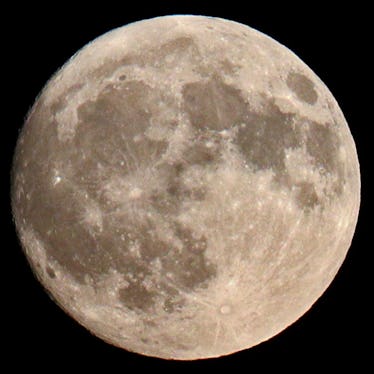 How To Use The New Moon In Scorpio To Tap Into Your Indulgent Side
Michael Heiman/Getty Images News/Getty Images
If you haven't already been channeling your dark side, this November new moon in Scorpio is coming around the corner to help you out. November 2017 new moon in Scorpio gives us all the chance to get in touch with our shadow selves, the parts of us that we keep hidden not just from the public eye but from ourselves. That's the energy of Scorpio: digging deep underneath the surface to draw up the grimy sludge of the upside down, and to inspect that sludge, burn that sludge, and ultimately rise from its dust like a phoenix.
A new moon is the moment in the lunar cycle when we are called to put our goals into actions, and when the new moon is in Scorpio, it calls on us to transform our actions in order to transform ourselves, and our external lives. It's a time to take a leap into the unknown, to do what you are most afraid of, and to face the consequences of your actions head on. Here are some of the ways to do the work on yourself that the Scorpio moon calls you to do, from the personal to the material. You can do it, just be brave.
Reduce, Reuse, Recycle
I mean this in the literal sense, but also in a more specific sense; if there's anything in your life that you've kinda ignored, now is the time to give it your attention, to give it the focus and time it deserves. Let's say you've got some antique book shelf that needs to be re-finished, or a gorgeous hand-me-down coat given to you by a relative that needs to be tailored. Put the time in to do those things, and watch how much joy it can give you to put time and care and consideration into the areas of your life you've forgotten.
Liven Up Your Sex Life
In much the same ways that you can leave chores or items on your to-do list by the wayside, you might also notice that you can do this in your relationship. It happens to all of us in monogamous relationships- things are going well, and we stop paying attention to our partner. We take them for granted. The Scorpio new moon allows us to sit down with our partner and ask questions we've never asked, to get to know them on a deeper level. This can spark the brand new intimacy of getting to know your partner all over again, and can actually enliven your sex life a great deal.
Take A Look At Your Money
Scorpio is the sign ruled by the eighth house of merging resources, of debt, and of other people's money. So the new moon in Scorpio is a good time to take a seat at your desk, put on your accountant hat, and do your best to ask yourself where your resources are being allocated. I'm not saying you've gotta be a multi-millionaire with a million accounts at Morgan Stanley to do this. Even sitting down to dig into your accounts to see where the bulk of the money you DO have is going, and if you're unhappy with what you find, make the necessary changes.
Get In Touch With Your Intuition
Scorpios, being a water sign, are intuitive, emotional, and tuned in to the metaphysical world in ways that signs of other elements are not. When the moon is in Scorpio, it's important to sit down and get quiet, to ask ourselves what we want, and to find the answers that come from deep in our gut. This is one of the ways we can discover where we are headed in our lives. Tune into what excites you the most, and then to visualize how excited we would be to have it.