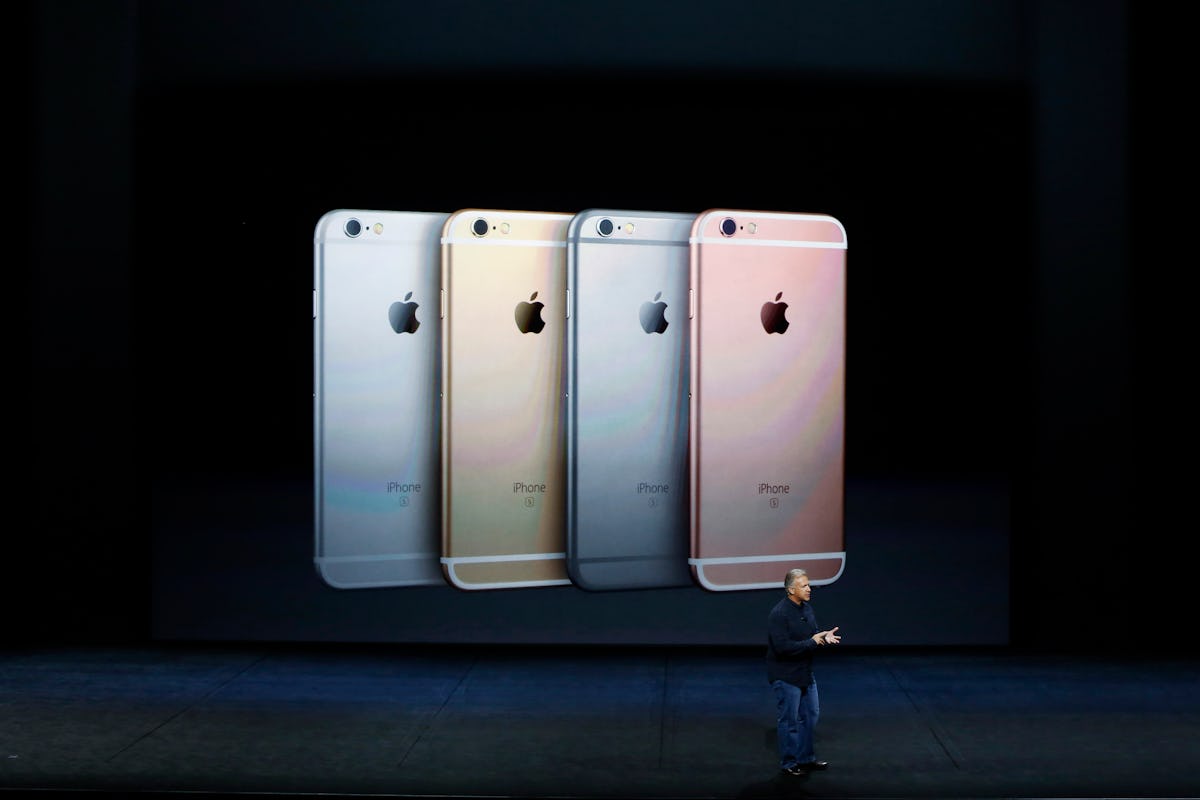 Don't Throw Out Your Broken iPhone 6 Plus Yet, You Could Get A Free Replacement
Stephen Lam/Getty Images News/Getty Images
There seems to be some kind of Apple news almost every day. Whether it's a new iOS update or lower-cost battery replacements, there's always something happening with the tech giant. The latest news will perk up the ears of any iPhone 6 Plus owners — especially if your phone is on the fritz. Your damaged iPhone 6 Plus could qualify for an upgrade to an iPhone 6S Plus, Mashable reports, so don't give up on it just yet.
Elite Daily reached out to Apple for comment but has not heard back at the time of publication.
It's never a fun time when your beloved iPhone begins to experience performance slow-downs or technical hiccups — and that's usually when you start looking into your options for a new iPhone. Before you fork over your cash for a brand-new iPhone, though, you'll want to check if your damaged iPhone 6 Plus is eligible for a whole-device replacement. Due to some inventory issues, Apple may be able to replace your iPhone 6 Plus with an iPhone 6S Plus for free, according to MacRumors.
MacRumors cited a reported internal Apple document that was supposedly distributed to Apple Authorized Service Providers as the source of this iPhone news. The memo reportedly indicated that service unit inventory orders for some iPhone 6 Plus models may be substituted with iPhone 6S Plus models until the end of March 2018. So, this could be very good news if your damaged iPhone 6 Plus is eligible for whole-device replacement (fingers crossed).
The catch here is that Apple did not specify what the reasoning for the substitution is or which iPhone 6 Plus models are eligible for the possible free upgrade. With a little digging, though, you can find out if you might be one of the lucky ones.
When it comes to replacing separate parts or the replacing the entire iPhone, Apple already has some guidelines. Parts that can be replaced individually without the need for an entirely new device include the iPhone's display, battery, speakers, rear camera, and the Taptic Engine. iPhone damage that may require whole-device replacement includes Lightning connector damage, a faulty logic board, and any other repairs that can be done individually. So, it's important to keep Apple's replacement standards in mind when you go to the Apple Genius Bar or Authorized Service Provider for an upgrade.
If you're iPhone 6 Plus is damaged, your best bet is to go to the Genius Bar to explore all of your options.
There is a good chance that the decision to replace some iPhone 6 Plus models with the iPhone 6S Plus is due to the recent price-drop on iPhone battery replacements. When Apple announced a reduction in price from $79 to $29 for battery replacement (after the company admitted to purposely slowing down older-version iPhones to protect the battery), it was soon revealed that there was a long wait time for iPhone 6 Plus batteries.
As of Jan. 11, 2018, some iPhone 6 Plus owners were told they'd have to wait for a battery replacement well into April 2018 due to a short supply of iPhone 6 Plus batteries, according to MacRumors. Given that wait time, it's speculated that some people opted to simply replace their iPhone 6 Plus, which may have nearly emptied the already low supply of iPhone 6 Plus models — which, according to a reported internal document, is a model that Apple no longer manufactures.
The scarcity of iPhone 6 Plus models and iPhone 6 Plus batteries (along with the number of iPhone users taking advantage of the low-priced battery replacement) were likely factors in Apple's reported decision to replace some iPhone 6 Plus models with an iPhone 6S Plus for free.
Whatever the reason behind the free upgrade, it can't hurt to take a stroll to the Genius Bar with your iPhone 6 Plus to see what they can do. And, hey, you just might walk away with a free upgrade to an iPhone 6S Plus.