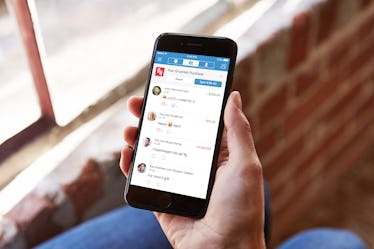 You Can Finally Use Venmo To Pay For Grubhub Orders, So Goodbye Money
Venmo/Grubhub
Hang onto your wallets because one of your favorite mobile payment services is coming to one of your favorite mobile food ordering apps. On Tuesday, April 17, Venmo and Grubhub announced that they are partnering up to make online ordering easier for customers. Now, you can use Venmo to pay on Grubhub — and you might want to keep a close and watchful eye on your bank account balance before it is too late.
The all-too-convenient form of payment is a welcomed change to the Grubhub, Seamless, and Eat24 apps. From now on, there's no digging through your wallet to punch in your credit card number or worrying about autosaving your bank information to your phone. Now, Venmo users can pay directly from funds already in their account, or use their linked bank account or debit card when ordering. Seriously, could it be any easier? I don't think so.
There's another perk to the recently-announced news: Ordering food with your friends just got a whole lot simpler. The latest update lets you easily divvy up the cost between Venmo users. The function should automatically show up as an available payment option once you get to the checkout screen (as you have the Venmo app installed on your phone).
That's right: You don't have to hound your friends or that random coworker to pay you back, because the Venmo app will send a notification to selected users asking them to split the bill. Say goodbye to the headache of waiting to be compensated, because this is basically the same as when you send a split fare request on Uber to the other passengers in your car. Easy peasy.
If you've ever ordered from Grubhub before, you know that just about all of your favorite menu items are a click away. The genius online ordering and delivery service is currently partnered with 80,000 restaurants throughout the United States and London, and this news only makes the app that much better.
This will come as no surprise, but according to the National Restaurant Association, 32 percent of millennials ages 18 to 34 prefer a dining experience that utilizes technology. I mean, do I ever actually want to leave my couch to eat? No (OK, to answer the door I guess). Regardless, it doesn't come as a surprise that more than 60 percent of Grubhub's orders are placed through their mobile app, because hello convenience. For this reason, it was a no-brainer for Grubhub to incorporate Venmo into their food ordering system, making mealtime a little easier on you.
"Venmo was founded to provide people with an easier way to make and share payments with friends and family," said Mike Vaughan, Chief Operating Officer, Venmo. "We're excited to further our longstanding partnership with Grubhub through this integration and given so many food-related payments occur on Venmo each day, it brings the social payment experience our customers love to the mobile buying experiences we know they already enjoy."
These days, with the likes of Apple Pay, Google Pay, and other convenient mobile payment systems, more and more apps and stores are bringing Venmo on board as a way to pay for goods, services, and now food. Currently, Venmo users can cash out with the app at more than 2 million retailers like Foot Locker, Forever 21, and others in the app or online. The popular payment app was purchased by PayPal, Inc. in 2014 and has grown to over 8 million users.
Truth be told, I'm just happy that I can use Venmo to pay for my Chinese takeout order later tonight. However, I know I'm going to shed a tear or two for my checking account in a few weeks.