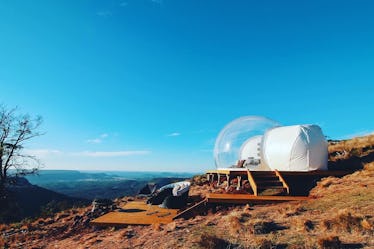 You Can Sleep Under The Stars In An Actual Bubble & It's Perfect For Zodiac Lovers
There are few things more magical than a cloudless night sky filled with stars that seem to sparkle as far as the eye can see. Staring up into the universe can be therapeutic and calming. But even if you're not in a big city, it can be pretty difficult to peacefully stargaze. Sound and light pollution can detract from the stargazing experience, and if you choose to be outside, you're exposed to the elements. If you're looking for the perfectly dreamy environment to stargaze, you can go glamping in a bubble to stargaze in Australia.
Yes, you read that right. Bubbletent Australia offers you the unique opportunity to glamp in an actual bubble. The "tent" is made of a clear plastic that's inflated to give you an unobstructed view of the evening sky. Located in the picturesque Capertee Valley in New South Wales, Australia, you can get cozy, kick back, and embrace the full effect of the stars. There is even a telescope and comfy floor pillows for your viewing ease.
Whether you're an astronomer in the making, or just someone who likes taking in the sights, you should book a trip to New South Wales. Spend an extraordinary night at Bubbletent, and literally sleep underneath the stars.
A bubble tent is a pretty cool and chic way to spend a night.
It's exactly what it sounds like. Seriously. The tent itself is a giant inflatable bubble (think a chic bouncy house). It is kept inflated by a sealed, zippered entrance on the side of the tent. The creators of Bubbletent pride themselves on giving each of their guests total privacy. There are three total tents on the property, but each is completely hidden from the other two tents for an isolated, peaceful retreat.
You would not believe the amenities that come with the tent.
All three tents — which are named after three different constellations (Cancer, Leo, and Virgo) — come equipped with a telescope, fire pit, restroom, and outdoor rinsing station for showers, as well as a unique feature specific to each tent. (Cancer has a floating bed, Leo has a hammock, and Virgo has a love swing.) Leo and Virgo each have an outdoor wood-fired bathtub so you can bathe while taking in the sights of the valley, and Virgo even has climate control inside the tent.
The company also prides itself on conducting an environmentally sustainable glamping experience. Elite Daily had the opportunity to speak with Bubbletent's owner and creator, Sonny.
Sonny tells Elite Daily, "There are novelties that [guests] get a kick out of, like a solar kettle that boils your water […] I think the fact that we use a compost toilet is a real delight for guests [too]. [We use] fresh sawdust from a local timber cutter to eliminate the odors." He adds, "Contrary to our initial anxiety [surrounding the 'sustainability element'], guests really buy into the experience."
Bubbletent is the unique experience you never knew you needed.
Sonny believes that guests are really taken by the magnitude of the surroundings at Bubbletent. He tells Elite Daily, "You feel like you have a whole mountain for yourself with no one else around." He continues, "I think the piece of feedback that really warms our hearts the most is when guests say that pictures don't do the experience justice."
Bubbletent offers a totally unique experience of glamping that perfectly blends a luxury experience with the more down-and-dirty parts of camping (like showering outside), while also allowing you to retreat and enjoy the wonders of nature. Bubbletent customers include couples celebrating their honeymoon, anniversary, or even a proposal, but even if you're not celebrating a particular occasion, they welcome everyone to come and take in the sights.