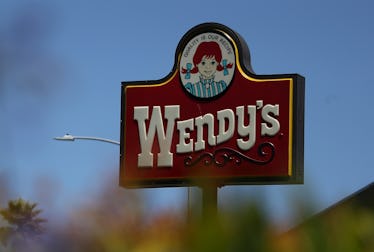 You'll Be Able To Have Wendy's Delivered To Your Doorstep Soon & We're So Excited
Justin Sullivan/Getty Images News/Getty Images
Wendy's fans, the creators of the Junior Bacon Cheeseburger and DoorDash have just partnered for an epic reason you're sure to appreciate. The fast food chain will soon offer delivery through its exclusive collaboration with DoorDash. Yes, you are reading this correctly. You can get Wendy's delivered on DoorDash soon, so you can say goodbye to ye ole drive-thru. Here's what you need to know about the life-changing news.
According to DoorDash, about 2,500 stores will be set up with delivery by the end of 2017 — aka next month. That means 48 major markets will have access to a delivery value menu complete with juicy burgers, crunchy fries, and frozen Frosties galore, because Wendy's entire menu will be on the platform, ready to show up at your door.
Up until the exciting announcement via DoorDash, the food delivery service was testing Wendy's delivery in two major markets: Columbus, Ohio and Dallas, Texas. Obviously, it was a hit. How could people not like a fast food delivery concept? Here in New York City, ordering food is a way of life, and I'd certainly welcome Wendy's into my usual rotation of restaurants. Through DoorDash, Wendy's can be at your door in 30 minutes or less. Since the chain is so speedy, it already has a high rating on the delivery platform. (Not surprising, am I right?)
This drool-worthy partnership is DoorDash's largest-ever, and once it's officially rolled out across all 48 major markets, it's going to change our fast food-loving lives. Thrillist reports that, even with 2,500 Wendy's locations offering delivery service, two-thirds (6,500) of them won't be on DoorDash, unfortunately. Here's to hoping that they will eventually, though! I'm assuming that the more successful this latest expansion is, the more likely it is that DoorDash will add more locations to its roster.
Wendy's CEO Todd Penegor said in a recent earnings report that the company is already "seeing some significantly higher average checks," Nation's Restaurant News reports. According to Food & Wine, in that very same earnings report, Penegor reportedly added that "technology needs to play a bigger role in the connection to the customer." All that said, an even greater expansion could potentially be here before we know it.
DoorDash's exciting announcement re: delivery and Wendy's comes just a couple months after the fast food chain debuted a larger version of its beloved Jr. Bacon Cheeseburger, aptly called the Giant Jr. Bacon Cheeseburger. The extra big take on the value menu item features double everything (meat, cheese, and Applewood Smoked bacon). NOM NOM.
Even better, Wendy's just announced a new Chicken Tenders Meal that includes a 3-piece order of chicken tenders, a small order of fries, a side of s'awesome sauce, and a drink for only $5. And if you live in one of the 48 major markets about to be introduced to Wendy's deliveries, you'll soon be able to have it all at your doorstep. Let me repeat: Everything you love from Wendy's is about to be one click away from your door. It's a beautiful thing, to be perfectly honest.
All that's left to do is plan your first order. Normally, I'm a regular Junior Bacon Cheeseburger and value fries kind of gal, but for a delivery Wendy's, I think I'd go all out and — oh, I don't know — order the whole dang menu! Why not splurge a little for such a momentous occasion? With that, let us say farewell to the drive-thru!
Check out the entire Gen Why series and other videos on Facebook and the Bustle app across Apple TV, Roku, and Amazon Fire TV.