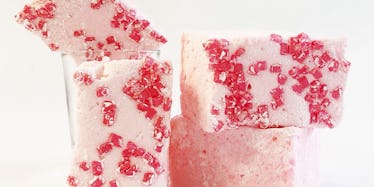 This Holiday Marshmallow Has Notes Of Rosé For A Little Extra Holiday Cheer
XO Marshmallow
The weather is cooling down and Halloween is coming up quick, but just because summer is over doesn't mean you have to say goodbye to rosé. There's no time like the present to enjoy the flavors of your favorite pink drink, and this time it's taking on a new form. XO Marshmallow's Jingle Juice holiday flavor tastes like rosé for a merry treat. Yes, you read that right. I'm talking about a holiday-inspired rosé-flavored marshmallow.
Grab the pen and paper, because XO Marshmallow's Jingle Juice flavor is going to be at the top of your holiday wish list. The perfectly pink marshmallows are infused with flavors of rosé, vodka, and cherry, according to XO Marshmallow. It sounds like some kind of deliciously magical Starburst flavor, but better. If you are a lover of all things millennial pink, well then these Jingle Juice marshmallows are going to be a must-have for you.
Now to the question I'm sure you've asked yourself while reading, "Do the marshmallows actually contain alcohol?" The short answer is no, but there's a little more to it than that. The confectionery company makes the marshmallows with actual liquor (and in this case, vodka), but the alcohol is burned off during the baking process. The idea here is that that XO Marshmallow's products are inspired by your favorite cocktails and wines, but the treats are actually free of any alcohol.
XO Marshmallow's Jingle Juice holiday marshmallows aren't currently for sale. The sweet snacks will be available for purchase starting on Friday, Nov. 23. That's Black Friday, for anyone who is keeping tabs. I don't know of any upcoming sales or promotions as it relates to XO Marshmallow's Jingle Juice holiday flavor, but I'll keep my fingers crossed for a sweet Black Friday deal. The Jingle Juice marshmallows will be available for purchase throughout the holiday season, with the final day of sales wrapping up on Tuesday, Jan. 1, 2019, according to XO Marshmallow. You won't be able to find these marshmallows in stores, but you can buy them directly from the XO Marshmallow website the day after Thanksgiving 2018.
If you're as intrigued by these flavor-infused marshmallows as I am, you'll be happy to know that there are many other types flavors for you to enjoy. XO Marshmallow is home to several other marshmallow creations including their tasty, booze-inspired After Dark collection. This line features well-known cocktail flavors like cosmo marshmallows, margarita marshmallows, and mojito marshmallows. Each flavor comes in a 12-pack and is sold on the XO Marshmallow website for $11.95. Add one to your next drink or keep a pack in the pantry to snack on when the urge strikes. There's no right or wrong way to enjoy them.
I know it's still October, but these holiday marshmallows already have me brimming with cheer. Marshmallows are usually associated with s'mores (yes, please) and Rice Krispy treats (gimmie), but XO Marshmallow is changing the game for the sweet and fluffy treats. Now that I'm thinking about it, maybe the Jingle Juice marshmallow would be totally delicious if it was lightly toasted and placed between two graham crackers with a piece of milk chocolate. A rosé s'more? I'm here for it.