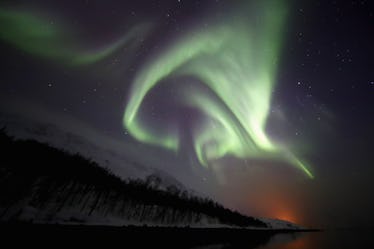 You Can Fly To Iceland For $99 This Fall & Winter To See The Northern Lights
Dean Mouhtaropoulos/Getty Images News/Getty Images
If you've ever dreamt about seeing the Northern Lights on a budget, now's your lucky chance. One specific airline that's known for selling cheap tickets to Iceland is at it again, and it's offering flights to Reykjavik for less than a hundred bucks. More specifically, WOW Air's $99 flights for fall and winter 2018 will land you in Iceland, where you'll be able to see the Aurora Borealis in person. So, if you've been hoping to witness the breathtaking light show in the northern hemisphere, book your flight and start planning your Reykjavik getaway.
For those of you unaware, Reykjavik is the capital of Iceland — and there are tons of things to do there when you visit. Thankfully, WOW Air provides tourist information on its website so visitors know about the attractions that the city has to offer. Some bucket list activities that the company highlights are whale watching, visiting the Blue Lagoon, and, of course, seeing the Northern Lights. Needless to say, a $99 trip to Reykjavik is totally worth it when you consider how many cool things you'll be able to do there.
I mean, c'mon: Being able to see the Northern Lights up close and personal is worth $99 alone... don't you think?
Now that you know a little bit more about the city and its eye-catching attractions, let's talk about flight deals. As of publication, WOW is offering cheap flights to Iceland throughout the remaining fall and winter months of 2018 (and spring 2019, depending on your departure city). As you scroll through different origin locations, you'll notice that some cities have more $99 flight options than others. It's OK, though, because a majority of them are offering the deal — and if your city isn't, consider flying out of an airport that is. So, if you have any free time between now and early 2019, now's your chance to book a trip.
In order to do so, select which city you'll be flying out of — and then choose which month you're hoping to travel in. After clicking on the month, you'll be asked to provide the number of adults, children, and infants that you'll be traveling with. Then, you can apply a promo code (if you have one). After filling out the necessary fields, hit "SEARCH FLIGHTS," and you'll be well on your way to a cheap Icelandic trip.
After your page populates, you'll see various $99 flight options that you can choose for your departure flight. The selection should look a little bit like this:
Once you've chosen your departure flight, you'll have to choose your return flight. Just keep in mind that not all return flights are on sale — so you might have to shell out a little more dough in order to get home.
After seeing the Northern Lights and everything else that Reykjavik has to offer, I think the extra cash on a return flight will be worth splurging on. You're totally going to want to tell your friends and family how breathtaking the Northern Lights were — so treat yourself and take the trip.