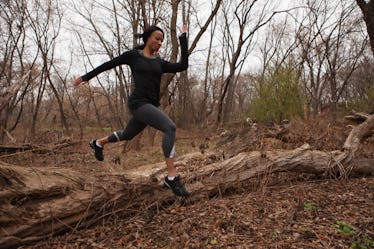 4 Things To Know About Working Out On Birth Control & How It Affects Your Body
It can honestly be exhausting trying to gather all the information on the plethora of different birth control options available to us these days. Don't get me wrong, it's a total blessing to have so many to choose from, but finding the best birth control for your lifestyle can almost feel like toying with a Rubik's cube for hours on end to no avail. Plus, when it comes to working out on birth control, there's not exactly a ton of helpful information available. However, as women, we deserve to have the facts about what we're putting into our bodies and how it's going to affect our overall well-being.
Of course, women can decide to go go on birth control for any number of reasons, from simply not wanting to have a child, to managing conditions like acne or polycystic ovarian syndrome, or even regulating painful PMS symptoms or irregular periods.
But we all know the side effects of contraceptives can be even more overwhelming to deal with than simply finding the one that works best for us.
With so many factors to consider, the last thing we want to worry about on top of it all is compromising our workout routine and our overall well-being.
Elite Daily spoke with registered dietitian Meg Dixon to get her professional opinion on how birth control can factor into a typical workout routine. She explains,
Women are cyclic beings. We ebb and flow throughout the month with our beautiful and intricate hormonal patterns.
There are four different components of our cycle: the menstrual phase, the follicular phase, ovulatory phase, and the luteal phase.
Our hormonal patterns are different in each of these phases, and this has implications on our lifestyle choices, including food, movement, sleep, community, etc.
According to Dixon, being in tune with your body in this way, and honoring your own ever-changing needs in all areas of wellness is referred to as "cyclic living." This means you may have all the energy in the world to slay a high-intensity workout during the follicular phase of your period, but you may crave, or even require, slower forms of movement like yoga or walking during the luteal phase.
And as for how birth control factors into all of this, Dixon tells Elite Daily,
The birth control pill alters your ability to live cyclically to some extent by altering your hormones and shutting off that communication between your brain and your ovaries.
For this reason, you may be able to have a more consistent, "never-changing" workout regime on certain types of hormonal contraceptives.
Trying to decide if birth control is right for your lifestyle and fitness routine? Here are five things you should know about how contraceptives affect your body when it comes to working out.