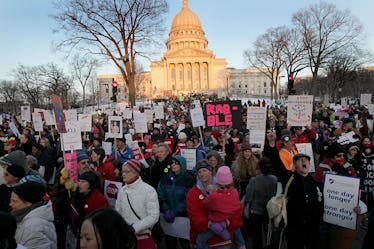 Wisconsin Republicans Are Trying To Undermine This Key Seat They Lost In The Midterms
Scott Olson/Getty Images News/Getty Images
A month after the 2018 midterm elections, the political drama is anything but over. In a few key states, Republican lawmakers are making extraordinary political moves in what appears to be an attempt to keep control after a Blue Wave election. In Wisconsin, Republicans are stripping power from two key offices, including the governor, following Democratic victory there in November. Elite Daily reached out to Republican leaders in the Wisconsin legislature for comment, but did not immediately hear back.
Literally in the cover of night, Republican lawmakers in Wisconsin on Tuesday went to work on a bill that would limit the powers of the offices of governor and attorney general, both roles won by Democrats in the 2018 midterm elections. The legislation was passed in the wee hours of the morning on Wednesday, Dec. 5.
The effect: blocking incoming Governor Tony Evers from making key appointments and making changes to Wisconsin law, Mother Jones reports. The legislation also strips the attorney general (Democrat Josh Kaul is stepping into that role) from entering or exiting federal lawsuits without legislative approval. This would presumably impact his ability to his remove the state from a federal lawsuit brought by a cohort of states challenging the Affordable Care Act (ACA), also known as Obamacare. (If that lawsuit is successful, it could rollback a key provision of the health care act, including pre-existing condition protections, in those states.) The legislation also limits the early voting period, which tends to favor Democrats, by two weeks.
Finally, as a GOP cherry on top, the state lawmakers reportedly rammed through scores of appointments that outgoing Gov. Scott Walker had made as his term came to a close.
In what he called a political first for the state, Evers said in a statement, "Power-hungry politicians rushed through sweeping changes to our laws to expand their own power and override the will of the people."
Wisconsin Republican State Assembly speaker Robin Vos was defiant and defended the move, per The New York Times. "Our proposals guarantee that the legislature always has a seat at the table," he said, according to The Washington Post. "With divided government, these bills allow for more discussions and opportunities to find common ground." Elite Daily's request for comment to Rep. Vos was not returned as of publication.
The move is being billed as a "lame duck" maneuver, a political "power grab," and even straight-up voter suppression. As Wisconsin Democratic Assembly Leader Gordon Hintz told NBC News, "It was a bad day for democracy."
"Democracy just died in Wisconsin," tweeted Nobel Laureate and New York Times columnist Paul Krugman. "Republicans, who were rejected by the public in both the gubernatorial and legislative votes, have locked in political dominance all the same."
As the nation watches the scene unfold in Wisconsin, one concern is that other states could mimic the action — and in fact, they already have. In a concerning pattern, a few other states are doing the same.
In Michigan, the GOP is seeking to strip power regarding campaign finance oversight from the secretary of state's office ahead of an incoming Democratic, and allowing the still-Republican state legislature to push back against the governor (also an incoming Democrat). Elite Daily reached out to Republican leaders in Michigan for comment, but did not immediately hear back.
In fact, Wisconsin's efforts to minimize the powers of an office held by the opposing party is straight out of another state's playbook. In 2016, North Carolina's state legislators did essentially the same thing, making swift moves after the election to restrict Democratic Governor-elect Roy Cooper's powers after he ousted incumbent Pat McCrory, a Republican. As some have pointed out, the outcome of that move doesn't bode well for the efforts in Wisconsin and Michigan, as courts ruled that parts of the move violated North Carolina's state Constitution.
The news also came as an extraordinary election in North Carolina is also being investigated for possible foul play in the state's 9th congressional district after a Republican operate is said to have tampered with absentee ballots to favor Republican candidate Mark Harris. Elite Daily's requests for comment to the state's election board or Harris' campaign have not been returned.
But if Republicans sought to keep these situations from becoming a political maelstrom, it's backfired. They're unfolding anything but quietly; protests emerged in Wisconsin early this week amidst the news of the changes. It's unclear what will happen now, but if one thing is clear, it's that all eyes will continue to be on the political turmoil in this and other key states.