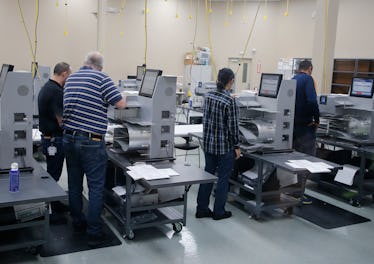 This 2018 Congressional Race Is Still Undecided After Allegations Of Voter Fraud
Joe Skipper/Getty Images News/Getty Images
President Donald Trump has routinely claimed, without much evidence, that voter fraud is a big problem in the United States, but now it appears that that claim might actually have some teeth to it. Troubling reports coming out of the South are raising questions of whether there's been voter fraud in North Carolina in the 2018 midterms. Allegations over the last several days are calling foul in the state's House race over accusations of tampering with absentee ballots to sway the election, potentially invalidating the race. Elite Daily's requests for comment from the Harris campaign and the North Carolina elections board were not returned as of publication. As of writing, Trump has yet to make any statements or acknowledge the allegations on Twitter.
The race at issue is for the U.S. House, for the state's 9th Congressional District, CNN reports. The Associated Press called the race for Republican candidate Mark Harris on Nov. 9, and CNN adds he beat out Democrat Dan McCready by only 905 votes out of more than 200,000 total votes cast. But now the AP has rescinded its call on the election in light of new information, and the State Board of Elections and Ethics Enforcement is reportedly holding off on certifying the race results as it investigates "claims of numerous irregularities and concerted fraudulent activities related to absentee mail ballots," said Joshua Malcolm, the board's vice chair, The Charlotte Observer reports. Elite Daily's requests for comment from the Harris campaign and the North Carolina elections board were not returned as of publication.
The investigation is said to be looking at whether absentee ballots were fraudulently handled in Bladen County, where Harris reportedly won 420 absentee votes to McCready's 258. CNN's review of 161 absentee ballots found that a handful of people had signed dozens of ballots as witnesses as required by state law, and appeared to be in close association with a political operative named Leslie McCrae Dowless Jr. One woman allegedly said she'd been directed to harvest the ballots from voters and give them to Dowless, according to WSOCTV. Affidavits allege that Dowless was working to sway the election for Harris and would be given a bonus if he won. Dowless denied wrongdoing to The Charlotte Observer. Elite Daily reached out to Dowless via the Harris campaign for comment, but did not immediately hear back. An expert also told CNN that the return rate for absentee ballots in the area was also abnormally low, meaning that more voters than usual had requested ballots but never sent them in.
Of note, as of Dec. 4, Trump has yet to say anything on the North Carolina case, though voter fraud has been a talking point in the past, and it didn't go beyond people's notice. The White House didn't return Elite Daily's request for comment on this matter as of time of publication.
Lawmakers and media personnel alike took the president to task for not saying more on the issue when they'd harped on it before.
"You've made wildly inaccurate and irresponsible claims about recent election results," tweeted Congressman-elect Mike Levin of California, calling out his GOP colleagues. "Now, you're silent about evidence of actual election fraud." Other Democratic lawmakers chimed in with quizzical tweets about why the administration was keeping mum on the allegations. "Will @realDonaldTrump tweet about this?" asked NPR political editor Domenico Montanaro in a tweet.
The situation is all too ironic. Voter fraud is normally exceedingly rare, though its minuscule occurrence is often the justification for passing strict voter requirements such as photo IDs to ensure people aren't gaming the system. Since a Supreme Court ruling in 2013 that rolled back a key provision of the Voting Rights Act (VRA), which limited states with a history of discrimination from changing their voting laws without federal permission, 25 states have passed some form of voting restriction in the U.S., according to the Brennan Center for Justice.
In fact, these legal restrictions, often done in the name of preventing voter fraud, have become one of the most salient examples that election advocates cite as voter suppression, in that they prevent eligible voters from casting ballots through a variety of means.
"We are not hearing much from national Republicans about this sordid North Carolina tale," tweeted Washington Post blogger Greg Sargent. "This is odd, isn't it? After all, Republicans love to scream about fraud in elections — when they're using it to justify voter suppression."
While the North Carolina drama is still very much unresolved, one would expect these allegations to be objectively troubling for an administration and president that has clearly taken a strong tack against fraudulent activities in the U.S. electoral process. So, what the administration decides to say — or not — on this particular case will speak volumes about the White House's priorities.