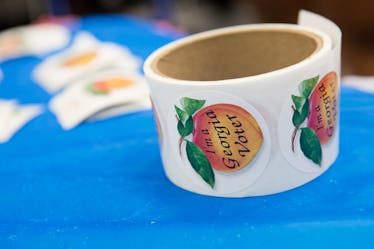 Donald Trump Says Voter Fraud Is A Big Deal, But That's Not Quite Right
Jessica McGowan/Getty Images News/Getty Images
Over the weekend of Oct. 20, President Donald Trump sounded the alarm bells once again over the supposed threat of voter fraud in the upcoming 2018 midterm elections next month. But is voter fraud really a problem in the United States? Here's a rundown on what you should know before Nov. 6.
"All levels of government and Law Enforcement are watching carefully for VOTER FRAUD, including during EARLY VOTING," Trump tweeted on Saturday, Oct. 20. "Cheat at your own peril. Violators will be subject to maximum penalties, both civil and criminal!" This is but one of the many times the president has claimed, without citing sources of evidence, that people are widespread casting ballots illegally; numerous experts have called this out as factually incorrect. Elite Daily reached out to the White House for comment on the president's tweet but did not receive a response.
But in reality, voter fraud is exceedingly rare. As The Washington Post reported in 2014, only 31 cases of voter fraud occurred among more than a billion ballots. In fact, despite Trump's routine claims, one of the only proven cases of voter fraud happened in 2016 when a Trump supporter from Iowa reportedly tried to vote twice.
Nevertheless, Trump created a special commission in May 2017 to investigate voter fraud after claiming that illegal voting was to blame for his opponent, Hillary Clinton, winning the popular vote in the 2016 election. The commission, which was disbanded in January 2018, hadn't been able to uncover anything substantial, per an account by a former commissioner.
Trump also warned voters at a rally on Monday that "Democrats want to give illegal aliens ... the right to vote," per reports. The White House had not returned Elite Daily's request for comment on this remark at time of publication.
"The fact that people keep talking about voter fraud is a real distraction from what is actually happening here, which is voter suppression," says American Civil Liberties Union (ACLU) attorney Sophia Lakin.
The ACLU is one of the civil rights groups that has filed lawsuits concerning alleged voter suppression, which are measures and practices that, intended or not, prevent people from voting, including one in Georgia. In a statement to Elite Daily, a spokesperson for Georgia Secretary of State Brian Kemp said that the State Election Board had opened an investigation to ensure that "counties are following the law" in determining voter eligibility. "There has not been credible evidence of voter fraud of the sort that would be prevented by [recent voting] restrictions," Lakin tells Elite Daily in an interview. "Study after study supports that finding."
Voter suppression, as Lakin explains, is less of a boogeyman and more of a real scare. This can be any number of circumstances, intended or not, that discourage or actually prevent people from voting. Voter suppression can take the form of intimidation, spreading misinformation about polling, or even laws that place restrictions on who can vote or how. Often, these conditions tend to disproportionately affect minorities. Since 2010, according to the Brennan Center for Justice, a whopping 24 states nationwide — nearly half the country — have passed voter laws that place restrictions on either registering to vote or casting ballots.
And again, Lakin reiterates that voter fraud is rare. In Kansas, she says, an ACLU court case found an average of less than two cases of voter fraud a year. "We tested the voter fraud claim in court this year and the court found that the state's evidence amounted to 39 [cases] over 20 years," Lakin added.
So should anyone really be worried about fraudulent votes on Nov. 6? By the numbers alone, it looks like there are much, much bigger concerns.