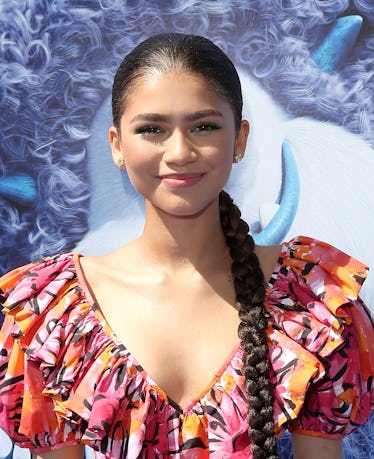 Zendaya Addressed The Rumors That She's Going To Be Ariel In 'The Little Mermaid'
Jesse Grant/Getty Images Entertainment/Getty Images
No one could have predicted just how wildly popular or successful Disney's return to fairytales would be. Their live-action remakes of Cinderella and Beauty & The Beast have been box office triumphs, their re-imagining of Winnie The Pooh as Christopher Robin was a critical darling. Everyone is looking forward to a Beyonce and Donald Glover-led The Lion King in 2019. With these sort of out-of-the-box successes, who wouldn't want to find themselves cast in the next major Disney live-action remake? This is why fans are wondering, will Zendaya be Ariel in The Little Mermaid?
Unlike some of the Disney remakes, The Little Mermaid does not yet have a release date, and is still in the writing phase, which suggests it wouldn't be coming out until 2020 at the very earliest, but more likely aiming for a 2021 release. There was a The Little Mermaid trailer which came out back in May, but it is not Disney's version. (That live action Little Mermaid came out last month and no one really noticed.)
Rumors have been flying for almost a month that Zendaya is the Mouse House's preferred choice for the part. She's already an established player in another corner of their enormous stable of production companies, playing Mary-Jane Watson in Spider-Man: Homecoming and the latest Marvel Cinematic Universe co-production with Sony, Spider-Man: Far From Home.
It wouldn't be too big a leap to move over to the Disney princess part of the lot and join the likes of Lily James and Emma Watson in a musical remake of her own. The fact Zendaya has serious singing chops and an actual pop music career, unlike her predecessors, is just bonus cookies for casting her as the mermaid with the vocal chords of gold.
But while the rumor mill has practically cast her already, Zendaya says there's no deal for her to play the part being hammered out. This is all just a rumor.
Speaking to Variety at the Smallfoot premiere this weekend, she was upfront about wanting the part if Disney will have her.
I mean, yeah, why wouldn't I?
As for what is confirmed about Disney's remake of The Little Mermaid, according to Entertainment Weekly:
Veteran Disney composer Alan Menken officially confirmed at D23 Expo that [Lin-Manuel] Miranda will be collaborating with him on new music for the film, which is to re-imagine the studio's 1989 animated classic. 'For the live-action Little Mermaid, I'm writing additional songs with lyrics by Hamilton and Moana songwriter Lin-Manuel Miranda,' he said.
Miranda is also involved with Disney's next live-action (probable) hit, Mary Poppins Returns, which comes out a few days before Christmas. If Poppins turns out to be a monster like Beauty & The Beast was last year, the role of Ariel will become the next hottest part to land on the Disney lot. Fans of Zendaya hope if she is in talks for the character, she gets it locked down ahead of this coming December.
Meanwhile, Zendaya can be heard next in the animated Smallfoot, which arrives in theaters Friday, Sept. 28. 2018.