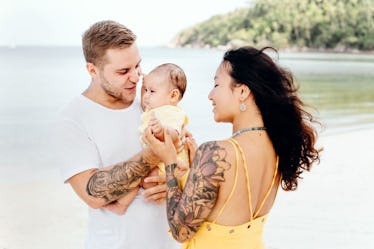 4 Signs Your Partner Will Be A Good Parent, According To Experts
When you first start dating someone new, you're usually mainly focused on chemistry and how they treat you. But as time goes on and things start to get more serious, you may start considering how this person is going to fit into your plans for the future. Do you share the same dreams and goals? And perhaps most importantly, where do each of you stand on having a family? If you both agree that's something you want, the next thing to consider is, will your partner be a good parent? Because if the answer is no, it's time to ask yourself whether or not this is the right relationship for you.
But how do you know if your partner is capable of being a good parent some time off in the possibly distant future? Well, if you know how to recognize the signs of someone with the right temperament, you don't have to be a fortune teller to have some idea of what kind of parent they would be. To help with this, we spoke with parenting experts Fran Walfish, Beverly Hills family and relationship psychotherapist and author of The Self-Aware Parent, and Maria Lianos-Carbone, author of Oh Baby! A Mom's Self-Care Survival Guide for the First Year, to ask them what to be on the lookout for.