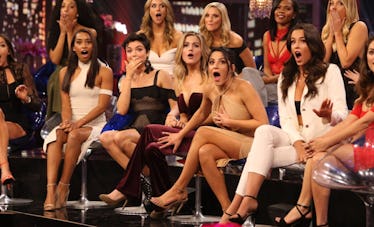 Bachelor Nation Is Already Rooting For This Contestant To Be The Next 'Bachelorette'
ABC
Tia didn't have the happily ever after she was probably hoping for on Bachelor in Paradise, but her tearful exit might just open doors to bigger and better reality television opportunities. Her ex Colton was just announced as The Bachelor, which means she might be on her way to handing out roses in the future too. Will Tia be The Bachelorette? Based on how everything's unfolded for the fan-fave so far, it seems completely possible she'll get the job. Plus, Twitter is all about #TeamTia.
Tia's BiP journey wasn't easy to watch at times. She came to Mexico clearly hoping to rekindle the flame with her former fling Colton and their seemingly endless will-they-won't-they situation lasted pretty much their entire stay. First Colton was open to making it work, then he was conflicted, then she had a short-lived connection with Chris, and then they reunited and made their relationship official. (I feel like I'm leaving out four steps there.) But after everything the pair went through, Colton just couldn't commit to Tia fully, and so he broke her heart on Monday, Sept. 3's episode. Both Tia and Colton left Paradise since there was nobody else either of them could seem themselves with. Apparently that kind of emotional rollercoaster of a story is enough for Colton to nab the Bachelor title, so what about Tia? Twitter feels it's also her turn to get another chance at love.
Of course, ABC will probably continue their grand tradition of also choosing a leading lady based on cast-offs from the most recent season of The Bachelor. If Colton's eliminated contestants don't turn out right for the role, Tia seems like a likely candidate.
Tia also appears ready to move on from the whole Colton thing already. Based on her response to The Bachelor announcement she's over it and ready to put their past drama aside. Tia wished her soon-to-be-Bachelor ex well on Twitter following Sept. 4's unveiling, writing, "Congratulations @Colt3FIVE I hope your season is full of protein powder, puppies, and naps! #TheBachelor." In addition to the enthusiastic tweet, she also took to Instagram to look back fondly at the Colton chapter of her life. Tia captioned a pic of them:
Never ever regret following your heart. Things may not always work out as you planned, but they always work out as they should. Thankful that this chapter of our lives has ended so new chapters can begin. I truly wish you the best, C. #peaceoutparadise#hotdogsforever#thankseleven
Colton revealed to People that he and Tia are currently "in a good place." He shared his own positive sentiments via Instagram after their split aired, telling her, "Don't settle for anything less than the world, because that's what you deserve. Can't wait to see what the future has in store for you and catch up on life some day, preferably over a hot dog dinner."
Maybe that future will involve becoming The Bachelorette and maybe it won't. Either way, Bachelor Nation is rotting for Tia.