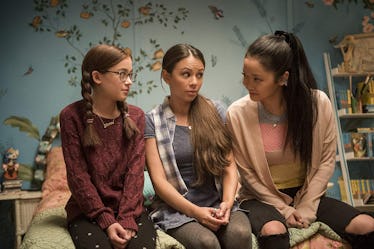 Here's What We Know About 'To All The Boys I've Loved Before' Getting A Sequel – UPDATE
Netflix
Netflix's original film To All The Boys I've Loved Before dropped on the streaming service Friday, Aug. 17 and it's already becoming a rom-com phenomenon. Adapted from Jenny Han's 2014 YA novel of the same name, the feel-good high school love story has definitely won over viewers because fans are already itching for more. If you've watched the movie already, you're probably wondering: Will there be a To All The Boys I've Loved Before sequel? It appears there's a good chance the film will get the follow-up everyone is asking for.
UPDATE: According to The Hollywood Reporter, To All The Boys I Loved Before may be getting a sequel. The follow-up movie is apparently in talks to be one of the first released by Paramount Pictures and Netflix as part of their new deal, which was just announced on Nov. 16.
EARLIER: The good news is there's source material to draw from ready to go. This isn't a Big Little Lies scenario, where a beloved project inspired by a novel was intended to be limited and new narratives need to be penned due to overwhelming popularity. To All The Boys I've Loved has two book sequels — 2015's P.S. I Still Love You and 2016's Always and Forever, Lara Jean, which bodes well for its cinematic future. It also sounds like the cast and crew behind the hit are open to continuing Lara Jean's story on screen. Director Susan Johnson revealed to Metro:
We were having dinner, Lana, Israel and I, and I was like, 'What do we think? Are we going to do the next one? Is it going to happen?' They responded, 'Yes! Make it happen. Before we get too old. We don't want to be 30 doing these roles.' Everybody involved is excited about it. We would love to keep the band together, so let's cross our fingers.
She also noted that time is of the essence when it comes to producing a second part. "It has got to happen fast. Otherwise it will be a flashback movie, and we will have to cast someone else. But we are all interested," Johnson added.
I'm pretty sure fans would prefer a sequel sooner rather than later.
To All The Boys I've Loved Before centers on cautious high school junior Lara Jean Covey, who is mortified when her personal love letters (which weren't meant for mailing) get inexplicably sent out to their recipients. This sets a fake relationship with popular high schooler Peter into motion so her actual crush doesn't know her true feelings. In addition to the literary trilogy, fans have good reason to assume another installment is on the way. Warning: Spoilers ahead if you haven't watched all of To All The Boys I've Loved Before. The ending credits scene literally opens up the door to conflict and romantic twists: One of Lara Jean's previously unseen letter-getters — Model UN's John Ambrose McClaren — shows up at her house.
"There's so many things in the second book that I would love to see in a sequel," author Jenny Han told IndieWire. "The whole reason why I wrote a second book was for the character of John Ambrose McClaren, who is a fan favorite, and he's a favorite of mine too. I would love to see that explored, and also there's a character called Stormy that I love to write. I would love to see that."
I think it's safe to say that the possibility of a To All The Boys I've Loved Before sequel is a strong one. Hopefully it involves Lara Jean getting her fave scrunchie back.