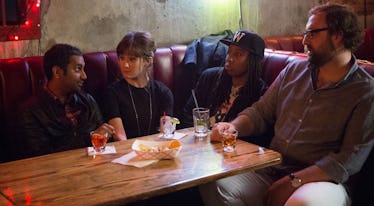 Netflix Wants To Make More Seasons Of 'Master Of None' Whenever Aziz Is Ready
Netflix
It has been over a year since Master of None's second season was released on Netflix, which is a suspiciously long amount of time to go without any updates on whether a follow-up third season is in the works or not. But Netflix has finally given fans the low-down on what is really going on with Aziz Ansari's auteur television show. The streaming service's execs addressed the burning question over the weekend: Will there be a Master of None Season 3 or not?
Netflix VP of original programming Cindy Holland fielded the question about Master of None at the Television Critics Association press tour over the weekend, and affirmed the streaming service's dedication to the show. Holland said that Netflix is down to greenlight Season 3, but it sounds like Aziz Ansari has not indicated an interest in making another season at this point:
We would be happy to make another season of Master of None when Aziz is ready.
The question about the future of Master of None also has elements of Aziz Ansari's personal life wrapped up in it. In January, an anonymous woman accused Ansari of sexual misconduct, claiming that she felt pressured into having sex with him. This accusation came a few months after the New Yorker exposé about Harvey Weinstein spurred on the #MeToo movement, emboldening sexual assault survivors to stand up to the men specifically in Hollywood who had used their position of power to take advantage of them.
Ansari released a statement following the anonymous woman's account, stating that the sexual activity "by all indications was completely consensual." Since then, the comedian has kept out of the public spotlight, although he has reportedly returned to performing impromptu stand-up sets around New York City.
Though the accusations against Aziz Ansari were met with a considerable deal more mixed responses than the accusations against other men pointed out by the #MeToo movement, there was still an air of uncertainty around whether or not Netflix would continue its relationship with Ansari. After all, the streaming service's tentpole series House of Cards was quick to drop its star Kevin Spacey after allegations against him came to light, and Netflix also pulled out of producing a special for Louis C.K. after he was accused of sexual misconduct. Jeffrey Tambour also lost his lead role in Amazon's Transparent after he was accused of sexually assaulting women on the set, although he actually did keep his role on Netflix's Arrested Development.
But as Cindy Holland's comments make clear, Netflix is still open to working with Aziz Ansari. The comedian's series Master of None has garnered critical acclaim, taking home two Emmys and a Golden Globe in its first two seasons. The second season premiered last May, a little less than two years after the show debuted in 2015. Since the series has already set up a precedent for long breaks between seasons, a 2019 premiere for the potential third season would not be that surprising. It sounds like that is all up to Aziz Ansari now, though.