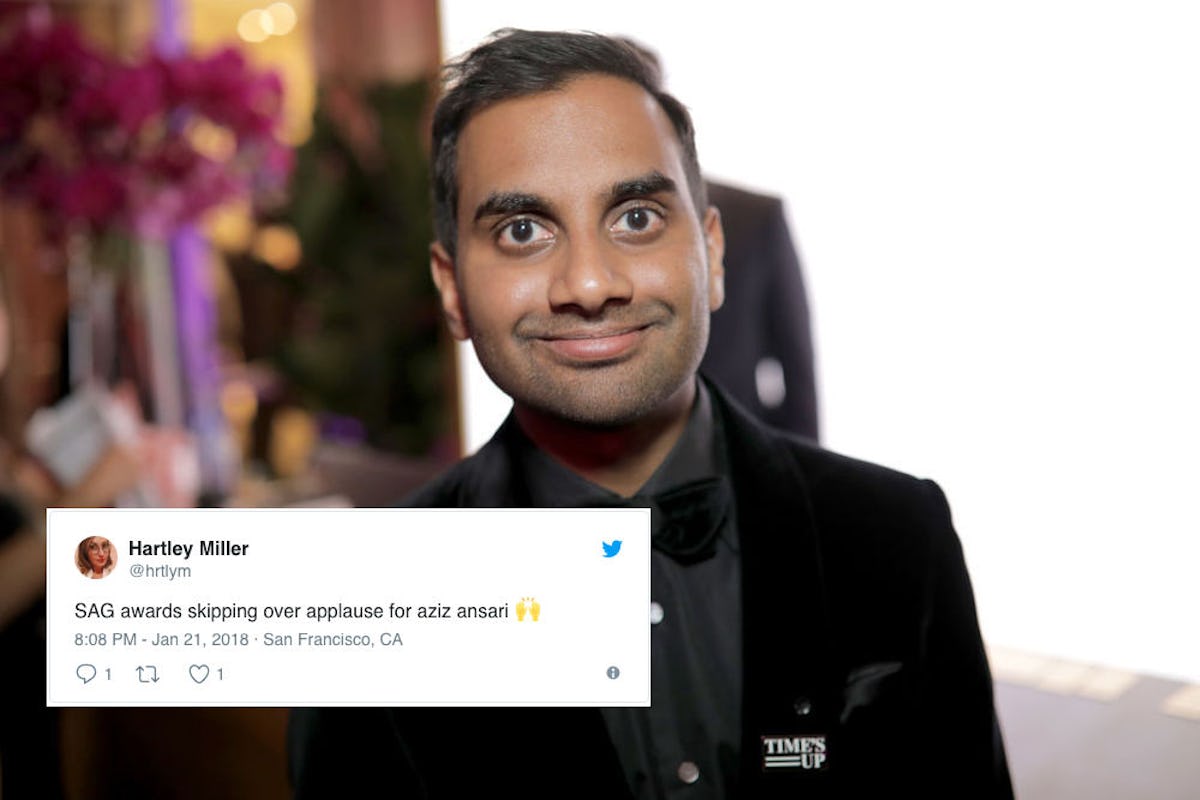 Nobody Clapped For Aziz Ansari At The SAG Awards & Twitter Exploded
Greg Doherty/Getty Images Entertainment/Getty Images
Aziz Ansari has garnered numerous accolades for his Netflix series Master of None, including a 2018 SAG Award nomination and a recent Golden Globe win for Best Actor in a Musical or Comedy. But the comedian has been in headlines for other reasons over the past week, and many viewers wondered if he would even attend the SAG Awards at all. Well, there was no Aziz Ansari at the SAG Awards this year. He also ended up losing to William H. Macy in the Male Actor in a Comedy Series category.
Aziz was nominated for the big award alongside Black-ish's Anthony Anderson, Curb Your Enthusiasm's Larry David, Will & Grace's Sean Hayes, GLOW's Marc Maron, and Shameless' William H. Macy. And when Ansari's name was read aloud as a nominee, he did not receive the applause that his fellow contenders did. Naturally, Twitter took notice. In fact, it seemed like the SAG Awards team planned it that way; Ansari's designated applause time seemed to have been rushed over, and his clip rolled right into the next nominee's. Of course, this could have been just because Ansari was not present and the SAG Awards wanted to save as much time as possible. After all, awards shows are known for acceptance speeches running over time, so in preparation, it would make sense to cut time wherever possible.
Regardless of the reason, Twitter was quick to take note, and some were definitely reading into the moment as a bold move on the SAG Awards' part.
Nothing Can Get Past Twitter
The recent controversy surrounding Ansari goes back to a Jan. 13, 2018, article in an online publication called Babe, where a photographer who goes by the pseudonym Grace outlined a 2017 date she had with Ansari, which she alleges resulted in sexual misconduct. Grace recalled details of her September 2017 encounter with Ansari at length, claiming she felt pressured into engaging in sexual acts with the actor despite her "cues." "I know I was physically giving off cues that I wasn't interested. I don't think that was noticed at all, or if it was, it was ignored," she claimed in the article. The piece was titled, "I went on a date with Aziz Ansari. It turned into the worst night of my life."
The report included text messages between Grace and Ansari that allegedly transpired following their date. "Last night might've been fun for you, but it wasn't for me," she allegedly texted him on Sept. 26. "You ignored clear non-verbal cues; you kept going with advances." "I'm so sad to hear this," Ansari reportedly responded. "Clearly, I misread things in the moment and I'm truly sorry." Elite Daily has reached out for comment on the claims and did not receive a response by time of publication.
Ansari released this statement following the accusations:
In September of last year, I met a woman at a party. We exchanged numbers. We texted back and forth and eventually went on a date. We went out to dinner, and afterwards we ended up engaging in sexual activity, which by all indications was completely consensual.
The next day, I got a text from her saying that although 'it may have seemed okay,' upon further reflection, she felt uncomfortable. It was true that everything did seem okay to me, so when I heard that it was not the case for her, I was surprised and concerned. I took her words to heart and responded privately after taking the time to process what she had said.
I continue to support the movement that is happening in our culture. It is necessary and long overdue.
Grace pointed to Ansari's recent Golden Globe win as motivation for writing about their encounter.
Nothing Ansari is being accused of is illegal, but in the wake of #MeToo and the Time's Up movements, naturally the allegation sparked public debate about boundaries, uncomfortable dating situations, and what constitutes misconduct.
Ansari already won the Golden Globe for Best Actor in a Comedy Series this year. He was also nominated for three Emmys in September 2017, winning for Outstanding Writing in a Comedy Series alongside Lena Waithe. He was also nominated for a Critics' Choice Award for Best Actor in a Comedy Series, though Ted Danson's The Good Place couldn't be beat. And apparently, neither could William H. Macy when it came to the SAG Award.