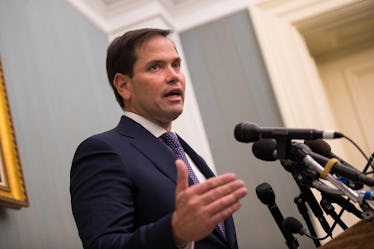 Here's Why Marco Rubio Might Kill The GOP Tax Bill
Drew Angerer/Getty Images News/Getty Images
During a press conference at the White House on Thursday, Dec. 14, President Donald Trump said the Republican party's tax reform bill "will be the greatest Christmas present that a lot of people have ever received." Now, however, it looks like the tax bill is in danger of not getting passed by Christmas at all. That's because the question of if the tax bill will pass is now more a question of something else: will Senator Marco Rubio (R-FL) vote for it?
For now, that answer is a "no." That much is clear after the former Republican primary candidate announced his stance on the bill on Thursday. Rubio says he won't vote for the final GOP tax bill unless it includes an expansion of the child tax credit (more on what exactly that means below). More specifically, Sen. Rubio wants to increase the amount of the tax credit that is refundable.
"I can't in good conscience support it [the tax bill] unless we are able to increase the refundable portion of it. There's a way to do it, and we'll be very reasonable." Sen. Rubio told reporters on Thursday, per Politico.
The Florida congressman also took to Twitter to explain his position (and throw just a little bit of shade at his Republican colleagues).
How Is Sen. Rubio's Position A Threat To The GOP Tax Bill?
If Sen. Rubio were to actually oppose the final tax bill, Republicans might not meet the 50-vote threshold they need among their 52 GOP members in the Senate to pass the law. Keep in mind they can only lose three of their own, given that the 46 Democrats and the two "Independents" (hello, Bernie) are already voting opposite Republicans.
Vocal Trump critic and soon-to-be-retired Senator Bob Corker (R-TN), has already voted against tax reform once. That's one.
Rubio is a "no" (again, for now). That's two, which means Vice President Mike Pence would use his power to break ties in favor of what the White House wants if need be. However, Senator Mike Lee (R-UT) was working with Sen. Rubio just days ago to expand the child tax credit. Clearly it's an issue he cares about, too. Though it seems unlikely, it's still technically unclear whether Lee will join Rubio in opposing the GOP's current plans. If he did, that would be three.
There's also the fact that Senator John McCain (R-AZ) is in the hospital due to side effects from cancer. Because senators must physically be in Washington D.C. to vote for bill, McCain's absence could also mean Republicans falling short of 50 votes, under very unfortunate circumstances at that.
A graphic from CNN's Thursday morning broadcast of New Day neatly shows how, in all, there are five Republican senators whose absence of positions could delay the GOP's tax bill.
What Exactly Does Rubio Want?
Marco Rubio wants the refundable portion of the child tax credit to be increased. Under the Republican tax plan, parents are allowed $2,000 to be deducted from the amount of taxes they owe per child. But only $1,100 of that credit is deductible. That means if a person owes zero dollars in taxes, but uses one child tax credit, that person will only get an $1,100 refund (hence Rubio trying to increase the refundable part).
Will He Get It?
Back up for a second.
The GOP's tax bill's path out of Congress, and unto the desk of President Trump for final signature, was never fully complete. That's because when the House and Senate passed tax reform, they ended up passing two different bills that had conflicting ideas.
The phase Republicans are at now is the conference committee phase, which allows GOP members from the House and Senate to come together and negotiation difference to pass a final, identical bill.
In other words, Rubio is making this push while there's still time to negotiate, and given how much of a priority tax reform is for the GOP, which wants to pass a major law before the end of the year, it's in the party's best interest to figure it out.