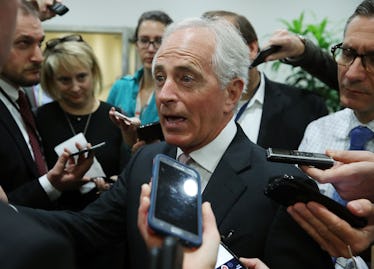 "Trump Day Care Activities" Are Trending On Twitter After Senator's Perfect Burn
Mark Wilson/Getty Images News/Getty Images
Well it certainly hasn't been a quiet morning for Trump and Sen. Bob Corker (R-Tenn.). The prominent GOP lawmaker and the president escalated their ongoing feud early on Oct. 24, when after a back-and-forth on social media, Corker doubled down with a tweet using the hashtag, #AlertTheDaycareStaff. And now, the hilarious burn that keeps on giving has Twitter going nuts, as everyone posts tweets about "Trump Day Care Activities."
The "adult day care" joke originated back on Oct. 8, when Trump posted a series of tweets attacking the senator, blaming him for having a large role in the so-called "horrendous Iran Deal" and asserting Corker "begged" him to endorse him in his nonexistent re-election run. Corker quickly replied with his own tweet, calling the White House an "adult day care center."
And the feud resurfaced on Oct. 24 when Corker appeared on multiple morning news shows. On Good Morning America, when asked about the comments he made about the president's capability to lead us to World War III, Corker stated that he'd like Trump to "leave it to the professionals" when it comes to the diplomatic process and handling foreign relations.
Sen. Corker also told The Today Show that the president's attendance at a Senate Republican lunch on tax reform that same day was merely a "photo-op," and that he hopes that "the White House will step aside" and let the Senate work in "a normal process."
Trump fired back. On Oct. 24 he tweeted that Corker "couldn't get elected dog catcher," calling him a "lightweight", "incompetent", and again alleging that the senator called Trump to ask for his endorsement, which the president declined.
Corker retaliated, effectively calling those who work for the president his "day care staff."
But it was the "daycare staff" analogy to Trump's administration that sent Twitter ablaze — and then everyone got involved in the seemingly never-ending feud.
By the evening, hundreds of users had posted to Twitter using the hashtag #TrumpDayCareActivities, joking about Corker's continued criticisms of the administration's ability to control the president — and I, for one, cannot stop laughing.
Many tweets paralleled Trump's agenda in the Oval Office with actual day care activities:
Other suggested Trump is literally just playing:
Another commented on his inability to pinpoint Puerto Rico, referencing his highly criticized handling of the Hurricane Maria aftermath:
One user suggested this is what the president does when the Trump-branded #FakeNews networks CNN or NBC are on TV:
And a couple of users compared Trump to an actual toddler:
With all of the crossfire between Corker and Trump, it's easy to forget how this all started in the first place.
It essentially began after the senator announced that he would not be seeking reelection in the 2018 primaries. Corker, who also chairs the Senate Foreign Relations Committee, announced on Sept. 26 that he plans to retire, while hinting that he may still be making a political impact in the future, according to NPR.
Trump was not pleased with the senator's decision to not run in 2018, presumably because it will leave more room for the seat to potentially be filled by a Democrat. And considering that the Senate is currently controlled by the GOP, this would not bode well for the future of Trump's White House agenda. On Oct. 8, Trump sent out a series of tweets calling out Corker on his decision:
Following these attacks from Trump, Corker responded in his own tweet where he infamously called the White House an "adult care center." In the same tweet Corker stated that "Someone obviously missed their shift this morning," presumably calling out whoever it was among Trump's staff that let him tweet comments which the senator asserts are untrue (i.e., his role in the Iran deal).
What's ensued since then is a back-and-forth that has become commonplace with the Trump administration. Where there's a critique of Trump, there is sure to be a @realDonaldTrump tweet to match it. Even when he's not directly referenced in an attack, Trump's autopilot has him opening his Twitter app and typing away. Who could forget Meryl Streep's legendary Golden Globes speech on Jan. 8, where she made a clear call against Trump's agenda to attack the free press, to which he responded by calling her "one of the most over-rated actresses in Hollywood."
And in the wake of Sen. Jeff Flake's (R-Ariz.) announcement earlier today that he will not run for re-election in 2018 as well, followed by a impassioned speech calling out Trump, who knows how the president will handle this latest opposition to his office.
All we can do is hope that it will inspire social media gold that's as amazing as #TrumpDayCareActivities. Because as sad as it is to still have Trump in office, it's fun to make light of his antics every once in a while.