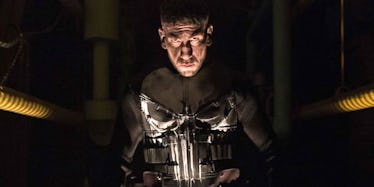 The First Season Of 'The Punisher' Isn't Out Yet, But Here's What We Know About Season 2
Netflix
There was a lot of excitement around The Punisher when Marvel and Netflix first announced the antihero's upcoming standalone series, but things are shakier heading into its series premiere this fall. In the wake of the Las Vegas mass shooting, the gun-heavy new series has chosen to pull out of its scheduled panel at New York Comic-Con, recognizing the possibility that American audiences may not have a taste for a superhero known for his arsenal of firearms shortly after the largest mass shooting in modern U.S. history. But despite the terrible cultural backdrop it will premiere during, The Punisher Season 2 still feels like a sure thing. Unless the new series really tanks (or maybe even if it does), you can bet Netflix and Marvel will work on a second season to follow it up.
Of course, it's still way to early to know any of this for sure, but even a cursory knowledge of Netflix's investment in its Marvel properties shows that the streaming service is not about to let one of its superhero shows peter out after just one season. All four of Netflix's Marvel shows (Daredevil, Jessica Jones, Luke Cage, and Iron Fist) were renewed for second seasons shortly after the first aired.
Most telling of these was the Season 2 pickup of Iron Fist — the first season of that show actually received largely negative reviews from critics, but despite the almost unanimous disappointment in the series, Netflix ordered a second season a couple months after it premiered. Since Netflix famously does not release its viewership numbers, it's possible that the show actually did attract an audience and that could have been a reason to renew it, but it's more likely that the network renewed it to just to keep everything in its Defenders franchise moving ahead, giving them the opportunity for a second big team-up mini-series.
So what does this mean for the possibility of a second season for The Punisher? Well, really good things. The fact that Iron Fist was a critical flop and still got renewed suggests that even if The Punisher sucks, it can rest assured that the series will get a second chance to redeem itself.
The annoying thing about a potential second season for The Punisher is how long we will likely have to wait for it. Since Netflix now has five Marvel series to cycle between, it could be more than a couple years before there's more Punisher — I mean, we're having to wait three years for the second season of Jessica Jones.
And it doesn't sound like fans can expected to see the Punisher pop up in another Defenders series before a second season either. Head of Marvel TV Jeph Loeb told Collider recently that he wants to see the Punisher remain true to his comic-book lone wolf persona, and away from any team-ups with the other heroes.
We haven't really gotten to that place; I don't know if there will be a Defenders #2. I think one of the things that is unique to the Punisher, and particularly to Jon Bernthal's performance, is that the character can stand alone. I think even in the comic books, Frank Castle's Punisher is a character that sort of does well by himself. I think that when you start mixing it in, it feels a little off. I'm not saying that it couldn't happen and I'm not saying that it wouldn't happen, I'm just saying it doesn't immediately lend itself towards, 'Oh yeah, sure, I can see The Punisher and Luke Cage hanging out with each other!' I think you sort of go, 'That feels like … you know, peanut butter and asparagus.'
So it might be a long wait for more Punisher on Netflix after the first season, but luckily fans don't have to wait long at all to finally jump into Season 1. Though a premiere date hasn't been officially revealed yet, The Punisher is confirmed to premiere sometime this year, and fans are looking towards November as the possible premiere month.