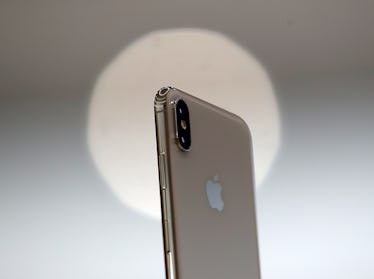 Here's What We Know About The iPhone X's Price After The iPhone XS Announcement
Justin Sullivan/Getty Images News/Getty Images
The technology-loving world basically came to a halt when Apple unveiled its iPhone X in September 2017. At the time, no iPhone user had seen a device quite like it. I mean, facial recognition?! C'mon. It was like Apple took its customers in a time machine to the future and introduced a phone they'd never seen before. However, Apple unveiled a handful of impressive new iPhones during its "Gather Round" event in Cupertino, California on Wednesday, Sept. 12, and I'm starting to think they might overshadow the OG iPhone X. With that being said, I can't help but wonder if the iPhone X price will drop after the iPhone XS release.
The original price of the iPhone X was definitely hefty, but the phone was absolutely worth it. When it was first released, the phone started at $999, and rose to $1,149 if you wanted more space. That, my friends, is a lot of cash. However, having phone with an OLED screen, facial recognition, a TrueDepth camera, and more made the device worth splurging on. But now that the iPhone XS is in town — with similar features as the iPhone X — it would make sense that the iPhone X price would drop a bit (that's just my opinion, though). I mean, if you're going to keep up with times, you're probably going to want to spend your money on a brand spankin' new phone — not the phone from "last year."
However, there's more going on with the iPhone X than just the price dropping. Not only did Apple not announce a price drop, but it seems that they took the phone out of their current lineup altogether. Elite Daily reached out to Apple for confirmation on whether the iPhone X has been discontinued but did not hear back by the time of publication.
From this photo at the Apple unveiling, we see the iPhone 7, 8, XR, XS, and XS Max. The iPhone X is notably missing.
Before the iPhone XS was even released, there were predictions about its price. This might come as a surprise, but the new phone was expected to be cheaper than the original iPhone X. According to 9to5Mac, the iPhone XS was predicted to cost around $800, which is certainly a big difference from $999. Now that it was released, we know the exact price is $999, which is the same as the original X when it dropped.
With that being said, it looks like the iPhone XS has overshadowed the iPhone X like I thought it would. However, there is one phone that might overshadow the iPhone XS a little bit — and that's the iPhone XS Max. The iPhone XS Max was released during the "Gather Round" event, too, and was originally predicted to be the size of the iPhone 8 Plus. Its price was rumored to start at $999, per 9to5Mac, which is the same price as the iPhone XS. However, it came in a little higher, at $1,099.
Again, this is coming from someone with no iPhone pricing experience. I'm just a gal with an iPhone and a tight bank account, trying to make sense of it all.