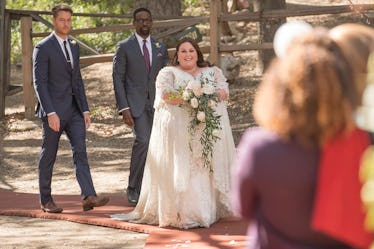 This Major 'This Is Us' Character Could Return For Season 3 & We're Crossing Our Fingers
NBC
The This Is Us season finale gave audiences a lot to obsessively analyze while the show goes on summer break. We learned what the future holds, be it one or more than 10 years from the present day. In an enlightening flash-forward, it was revealed Toby suffers from crippling depression. We also saw Randall and 20-something Tess dealing with visiting someone they weren't ready to face. We saw Kevin's upcoming journey — a trip to Vietnam with Beth's cousin Zoe. We have to wonder what that means for other characters. Will Sophie be back for This Is Us Season 3? We're not sure we've seen the last of Kev's childhood sweetheart.
It's been made abundantly clear that Kevin has had a reputation for being a ladies man. But there's one woman the actor always had eyes for: his ex-wife Sophie. He's known her since he was a kid in Pittsburgh. They grew up watching The Princess Bride together. They share a storied history. And while Kev attempted a second shot at their relationship, it didn't have the happy ending the couple hoped it would and they broke up in the wake of Kevin's downward spiral into addiction.
Kate's wedding brought new hope for Kevin's love life. Enter Beth's charming cousin Zoe, a stunning and smart photographer from Chicago. The last moments of the finale the pair traveling on a plane together to Vietnam, so it's pretty clear they've made a serious romantic connection.
Have we seen the last of Sophie, who is played by actress Alexandra Breckenridge? TVLine's Michael Ausiello discussed her potential return:
It's over… for now at least. As the aforementioned Kevin-Zoe development all but confirmed, Breckenridge will not be back next season as a series regular. A guest appearance, however, is not out of the realm of possibility.
If you're among the fans shipping Sophie and Kevin 4 eva, Breckinridge has hope for you yet. "Kevin and Sophie, they've loved each other since they were kids," the actress divulged to Cosmopolitan last November. "They've been off and on since they were children. I think that eventually, it's gonna work out for them, or at least I hope it does. I think they have a bond that's kind of unbreakable."
Now that Kev's in a better place, will he manny up and make his new relationship work? Zoe, portrayed by British-born Dark Matter actress Melanie Liburd, seems like a promising addition to the show and she might be good for the sober and more mindful Kevin. Hey, any friend — or family member — of Beth's is a friend of ours. And we sure haven't seen the last of her. "When we come back, we're going to be embarking on a new chapter with them sort of discovering their romance, and their relationship, and figuring out what they are. We can expect to see her for a while," executive producer Elizabeth Burger explained to The Hollywood Reporter.
In addition to getting to know Zoe, audiences will also have the chance to go further into Beth's story. "We're looking forward to including Beth and Zoe's extended family, and throwing them into scenes with Kevin and Randall. It just felt like the possibilities there were really fun and endless," Burger teased regarding Season 3.
"I'm always up to anything new they want to do with Kevin, be it a relationship or a job," Justin Hartley remarked on his character's progression. "As an actor, that gives you the opportunity to sink your teeth into things. […] I'm at the point where anything they write, I'm into it."
We're certainly in agreement about those trusty This Is Us writers, as we have faith whatever they decide to throw our way.