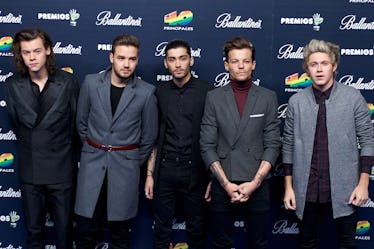 A One Direction Reunion May Actually Happen & I Can't Stop Screaming
Carlos Alvarez/Getty Images Entertainment/Getty Images
THIS IS NOT A DRILL, YOU GUYS. I repeat, NOT a drill. For all of you One Direction fans, it's been a rough few years — we were left heartbroken when Zayn Malik left the band in 2015 to pursue a solo career, ultimately causing a domino effect that lead to the group's hiatus so that the remaining bandmates could also work on their own projects. (I'm honestly weeping just thinking about when things first started to crumble.) While each bandmate has found success in their own way, many people are hoping — nay, praying — for 1D's return. And now, a new interview from Liam Payne is giving us fans a lot of hope for that to actually happen. So, will One Direction get back together? Apparently, it's not completely out of the question, so excuse me while I go celebrate.
According to Buzzfeed, Liam Payne told Promiflash that a One Direction reunion is totally plausible, saying, "I think it will happen at some point in the distant future ... We've all spoken about it."
First off, YES.
Then, a second thing... YES!!!!!!!
Payne also spoke to their huge personal successes ever since taking a hiatus, saying, "This part is now so important for us to be able to make that show, and it's the only way really that One Direction could get any bigger."
LIAM ARE YOU FOR REAL RIGHT NOW? Exciting is an understatement. A possible reunion in the "distant future?"
DO YOU JUST HEAR THAT SOUND?
That's the sound of hope.
It's the sound of sweet, sweet One Direction music, back on our radio stations once more.
It's the sound of possibility.
It is the sound of One Direction giving the world a dream. A dream that goes beyond our wildest imaginations. A DREAM OF ONE DIRECTION BACK TOGETHER AGAIN.
My heart can't take this, you guys. It simply can't go on.
If you haven't been following the One Direction crew since their hiatus, then I suggest you start reading up on all of their whereabouts because things have changed quite a bit.
Now that the idea of a reunion is on the table, I'm sure you're thinking the same thing I'm thinking: What about Zayn? Remember, the singer tore our hearts in half back in March of 2015, when he announced that he would be leaving One Direction for good.
In a statement released to MailOnline, the singer said,
My life with One Direction has been more than I could ever have imagined. But, after five years, I feel like it is now the right time for me to leave the band. I'd like to apologise to the fans if I've let anyone down, but I have to do what feels right in my heart. I am leaving because I want to be a normal 22 year old who is able to relax and have some private time out of the spotlight.
Malik also added, "I know I have four friends for life in Louis, Liam, Harry and Niall. I know they will continue to be the best band in the world."
WHY, ZAYN, WHY?
So, if One Direction does reunite, will Zayn be a part of that? Or will he still technically be no longer a part of the group since he technically parted ways with them years ago?
While that remains unclear, it's pretty obvious that Zayn has been doing just fine on his own. His most recent single, "Let Me," off his upcoming second solo album is absolute fire, and he doesn't seem to be slowing down anytime soon, so the jury is still out on whether or not he'd be willing to come back to Harry, Liam, Niall, and Louis.
But, if I could make a plea: Zayn. Please come back. The gang misses you. Your fans miss you. I miss you.
Let's go back to the good ole days, shall we?