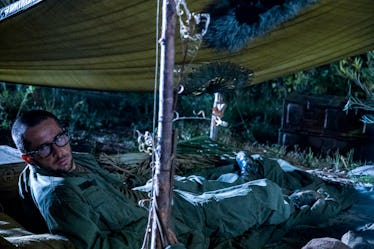 This Casting Information About Nicky Proves 'This Is Us' Fans Haven't Seen The Last Of Him
NBC
This Is Us saved all the Season 3 twists for the very end of the fall finale, with the reveal Randall and Beth are maybe divorced, the "her" everyone is going to see in Rebecca, and the shock of discovering "Uncle Nick" as Kevin calls him, is alive, well, and living in Bradford, PA. (No one saw that last bit coming, right? Nicky alive maybe, but Bradford?) The final scene showed the now-aged Nicholas Pearson shuffling around his living room. Will Old Nicky be in This Is Us Season 3 as a regular character? Turns out the answer is yes.
According to Deadline, the actor viewers saw in out of focus silhouette is veteran actor Griffin Dunne, and he'll be playing present-day Nick as a recurring character come the second half of Season 3. Dunne has been in tons of films and TV shows since the mid-1970s, but he first broke big as Jack Goodman in 1981's An American Werewolf in London followed by starring in Johnny Dangerously in 1984. More recently, he's starred in such TV shows as Showtime's House of Lies and the Amazon Studios series I Love Dick.
Dunne has signed as a recurring role for the rest of this coming season, which suggests Nick will become something of a fixture in the Pearson's lives, for at least the time being. Young Nicky will continue to be played by Michael Angarano.
Speaking of Michael Angarano, the Nicky viewers have come to know has known about the twist the whole time. Speaking to Vulture, Angarano said he was glad to talk about it:
I knew the broad strokes of the story, which was that Nicky was alive. I didn't know the nuances and the details of the story so to speak and was continually surprised by every script that I got and read. And I similarly don't know too much about the future of it.
As for how Nicky survived, and what his life has been like since the war, Angarano can only say this:
I'm not dishonest when I say that this story is very dark and sad. Even with Nicky being alive, the circumstances and what's happened to him and what happened to Jack is very sad.
As for what Jack did and didn't know about Nicky's fate, creator Dan Fogelman told Entertainment Weekly answers will come quickly:
What is really interesting — and potentially most interesting — about the whole Nicky storyline is the reaction not just of the Big 3 in the present day to some information that they may or may not find out, but also Rebecca's reaction and the ramifications of this news coming to light in the present day.
Fogelman also hints their existence may not be such a surprise to Nick. While fans might think this a sign Jack was in touch with his brother, it may not be. Social media is a thing in 2018, and it's not like Kevin Pearson has been keeping a low profile as a successful Hollywood actor. Randall hasn't either, with this whole "running for City Council" business.
Fans will have so many questions when This Is Us returns on Jan. 15, 2018.