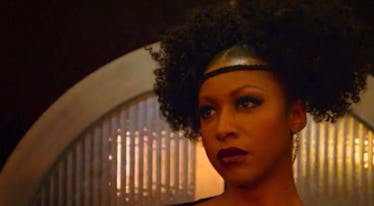 'Luke Cage' Season 2 Introduced Marvel's Newest Supervillain & She's A Huge Threat
Netflix
The newly released second season of Luke Cage introduced a few new villains, but in the end, it looks like the most powerful villain of all is someone that seemed to be a good guy all season long. The season finale shows us a whole new side to the holistic doctor Tilda Johnson, and it might make fans wonder: Will Nightshade be the next Luke Cage supervillain? After all, Tilda becomes a villain called Nightshade in the Marvel comics, and it looks like the show may be following that same arc.
Spoiler alert: This post will discuss plot details from throughout the second season of Luke Cage. We first meet Tilda Johnson pretty early on in the new season, after one of Mariah Dillard's political aides convinces her to reconnect with her long-lost daughter as a campaign maneuver. Tilda runs a holistic medicine shop ironically called Mother's Touch in Harlem, and although she is wary of her shady mother, Tilda tentatively agrees to try to repair their fractured relationship. As Mariah's war with Bushmaster rages on around her, Tilda realizes that Bushmaster is able to achieve his superhuman strength and durability by using ingredients at her shop — a mysterious plant called Nightshade, in particular.
Tilda actually comes to bond with Mariah over the course of their time together, even attempting to save her mom from a building that Bushmaster set on fire, but that all changes when Mariah reveals the truth about her birth and enacts a literal scorched earth policy against Bushmaster.
While they are hiding out in one of Danny Rand's buildings, Tilda confronts her mother with the questions that have always kept the two apart, and Mariah finally tells her the truth about who Tilda's real father is. She reveals that her first husband, the man whom Tilda had always believed to be her father, was actually a gay man and Mariah used him to cover up the fact that her uncle Pete had raped her. The traumatic moment leads Tilda to realize she is a product of incest and rape, and Mariah then admits that is the reason why she does not love her daughter.
With that heartbreaking revelation still in her mind, Tilda returns to her shop to find a nearly dead Bushmaster asking for her help, and she decides to give him more Nightshade. She actually begins to bond with Bushmaster a bit, especially after she finds out that her mother slaughtered a restaurant full of innocent people just to make Bushmaster suffer. After Mariah is caught and thrown in jail, we really see Tilda embracing her dark side.
Before visiting her mom in prison, Tilda cooks up a potion that translates to "spider's kiss," and we learn why pretty quickly. It turns out, Tilda put the concoction on her lips and it poisoned Mariah when she kissed her mom goodbye. Now that Tilda has fully embraced her mastery of mystical herbs and used them to kill, it looks like she may become the next supervillain to go up against Luke Cage in the next season of the Marvel show. To make her transformation into the comic-book villain Nightshade more clear, Tilda shows up at Harlem's Paradise wearing her hair up in two poofy segments, which is the same hairstyle Nightshade from the comics is known for.
In the comics, Nightshade is a genius supervillain who developed pheromones and potions that could turn people into werewolf-like creatures that would do her bidding. Could we see some of that canine action in the possible third season of Luke Cage? Only time will tell, but it definitely looks like Nightshade has arrived.