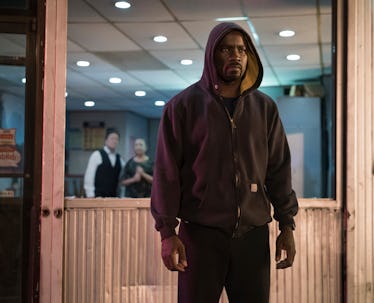 Refresh Your Memory On All Things 'Luke Cage' Before Season 2 Hits Netflix
Netflix
Luke Cage was the third release from the Netflix Marvelverse, coming out in late 2016 after the character was originally introduced in Jessica Jones' first season. In Jessica Jones, he was a bartender who she was obsessed with, and she ended up sleeping with him. But before long, the reason for her obsession came out: She had killed his late wife. It ruined their relationship, and their friendship for a while too. Now freed of Jessica, and off on his own show, what happened in Luke Cage Season 1? I'll run down the main points, character by character.
But before getting into the plot, a few things about Luke Cage, most important being, that's not his name.
Luke Cage's real name is Carl Lucas. He changed it when he got out of prison and decided to drop off the map rather than go back. (He kind of broke out instead of finishing his sentence.) For a while, he ran the bar Luke's, which is where Jessica found him. But after the death of his wife and his encounter with Jones, he moved to Harlem and started working at the most menial jobs he could find in order to lay as low as possible from other powered people like Jones and Kilgrave.