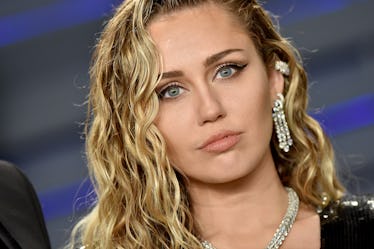 Miley Teased Her New Album With A Throwback To Her Old-School Music
Axelle/Bauer-Griffin/FilmMagic/Getty Images
It's a good day to be a Smiler! Miley Cyrus' fans are freaking out after big news from the pop star hit the internet. Cyrus took to Twitter on Aug. 5 to reveal she has a new chapter coming, and will finally release the next EP in her "#SheIsComing" series. Needless to say, the news Miley Cyrus will drop an album in 2020 has fans flipping.
"Meet Miley Cyrus….. again," the pop star tweeted, using the hashtags '#SheIsComing' and '#ButForRealThisTime." The hashtags reference her previous May 2019 tweet where she promised fans a series of three EPs. Cyrus dropped her last EP She Is Coming that May, and revealed that she planned to drop two additional EPs called She Is Here and She Is Everything soon after. Unfortunately for fans, after the release of She Is Coming, the additional EPs were put on hold and left fans questioning whether they would ever see the light of day. Now, it looks like that's all about to change.
Fans first were tipped off Cyrus had something up her sleeve when she was announced as part of the 2020 iHeartRadio Music Festival lineup. It's no secret most musicians tour in tandem with an album release, so fans were convinced it meant new music was on its way.
You can see Cyrus' tweet about new music below.
After seeing Cyrus' message, fans lost it. Twitter instantly lit up with excited tweets about the long-awaited new record from Cyrus.
"OH MY GOD IS IT FINALLY REALLY HAPPENING PLEASE DONT LET IT BE A JOKE," one fan tweeted.
"WE ARE READY. JUST PREACH, QUEEN," another fan said.
While fans wait patiently for the new album, it will be great to see her perform some throwback favorites at the iHeart Radio Music Festival on Sept. 18. She joins an impressive lineup at the 2020 show, performing alongside BTS, Migos, Coldplay, Kane Brown with Khalid, Keith Urban, Thomas Rhett, Usher, and more.
It's been a long time coming, but now that Cyrus is finally blessing us with the next installment of #SheIsComing, something tells me it was well worth the wait.
This article was originally published on